As co-founder of HiLo Media, we have been on the forefront of creating screen capture and "screencast" content for video tutorials with screen recorder software for over 15 years now.
When we first started, the options for screen recording software were slim and generally buggy. We've tried everything from free screen video recorder apps to expensive pro screen recording software.
We've since settled on Telestream Screenflow as our favorite screen recorder, and we feel it's the best screen recording software available today.
Check out our comprehensive article on the Best Screen Capture Software for Mac.
Quick Overview - What is Screenflow Used For?
Screenflow is a powerful screen recorder software that allows you to capture your screen, record your voice, and add annotations and effects. It is perfect for capturing your computer screen to create video tutorials and app marketing videos.
Buckle up, let's get started!

Here are 4 reasons why Screenflow is the best screen recorder software:
Reason #1: Screenflow is Easy to Use
Screenflow has a simple and intuitive interface that is easy to use. The app is designed for both beginners and professionals.
The New Screen Recording interface gets you started gently with easy-to-understand layout and UI.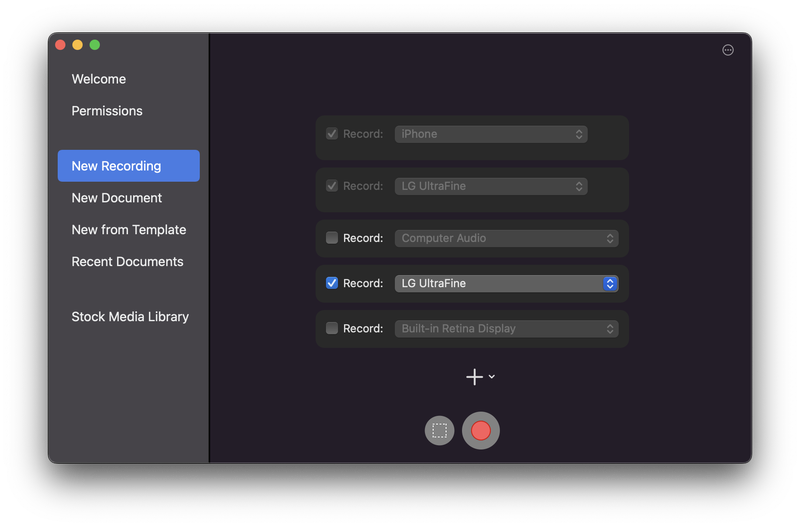 Screenflow also offers a wide range of tutorials and webinars to help you get started.
Reason #2: Screenflow Has Powerful Features
A review of ScreenFlow features reveals a wide range of video recording and editing tools designed to help online course creators, digital product sellers, teachers, trainers, and corporate professionals create high-quality content.
Here are some of its main features:
ScreenFlow provides industry-leading screen recording capabilities, allowing you to capture every aspect of your computer screen in the form of a high-definition video.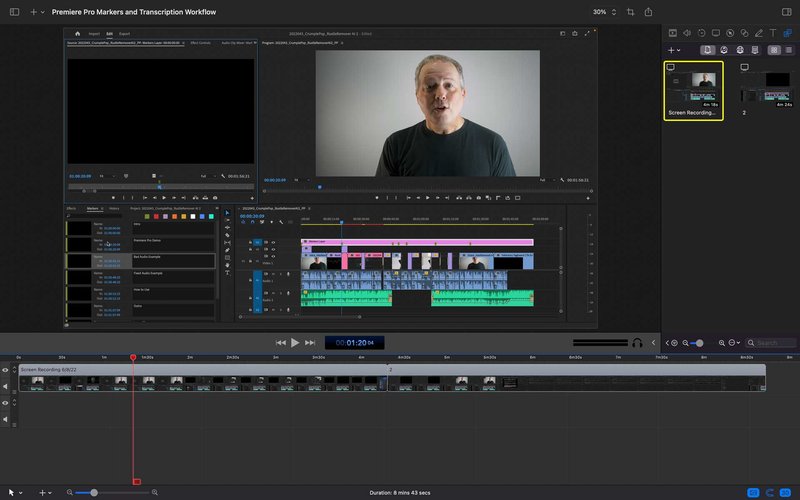 Because the screen recording platform is designed for Mac users, it captures the actual essence of Apple's retina display better than any other program.
However, ScreenFlow's most unique feature is its multi-device capability. You may simultaneously record from multiple devices such as your desktop monitor, secondary monitor, smartphones, mics, audio equipment, and various content sources (more on this below).
Screenflow includes Powerful Video Editing Tools
ScreenFlow's video editing tools are also among the industry's best. The program comes with a number of tools for modifying your videos into professional content that will make an impression on your consumers.
ScreenFlow allows you to generate a timeline view to modify and edit your video files. The timeline has several tracks for combining numerous recording sources such as your screen, camera, audio device, and so on.
You may view a frame at a time in the video editor, which is useful for editing. You may also utilize the editing interface to move and arrange tracks in sequence or order.
You can crop and trim your videos, add filters, add media, and change content in a variety of ways using this editing interface.
For example, you may use callouts to distinguish distinct video parts with special effects like zoom-in or grayscale. You may also utilize transitions and notes to enhance your movies in the same way.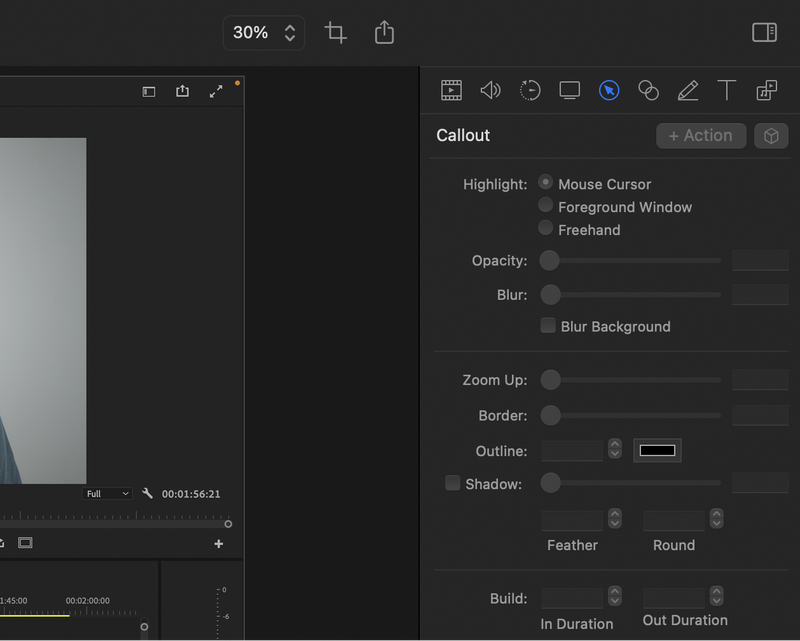 Annotations, in particular, play a vital role in improving your content engagement and helping you drive conversions. 
The title animation library in ScreenFlow includes additional features, including a large number of titles. It has a wide range of title animations that you can use at any point in your video.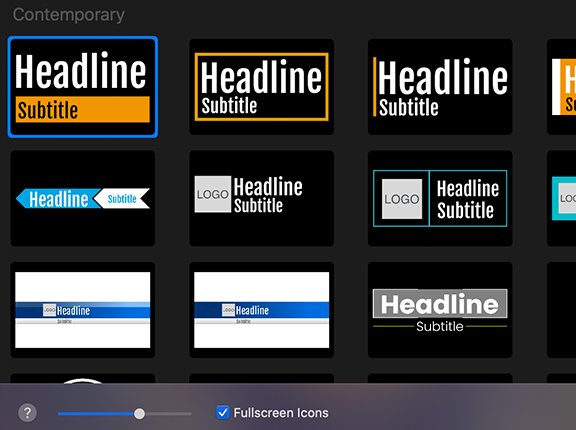 All of these presets are fully editable, so you may personalize them to your company's colors and style. You also have the option to modify the animation type later if you're not happy with how it turned out. To change this, just take the frame where you've added the animation and make changes from the settings panel.
Overall, ScreenFlow delivers a lot of video editing features that give you complete control over how your material looks.
Screenflow Includes Useful Video Enhancements and Filters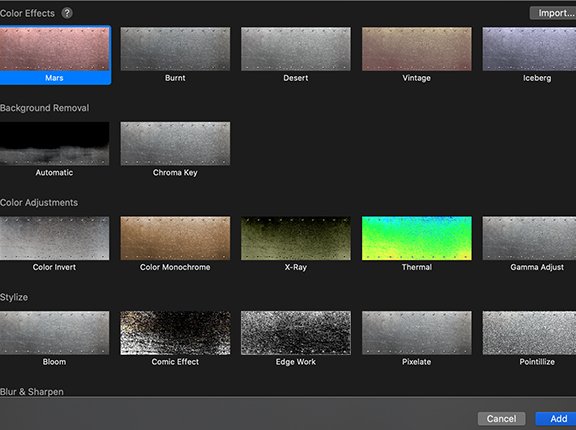 Aside from the basic video editing tools, ScreenFlow includes a number of video improvement tools to make your material even more appealing. It provides you with a filter library in which you may apply a variety of visual effects to your video tutorial.
The library also includes color adjustments, stylizations, and blurs or sharpens effects. Each effect has a unique impact on the look of your film. However, when used in tandem correctly, they may help to make your material more appealing.
You may also use ScreenFlow to apply background removal effects without affecting the video quality.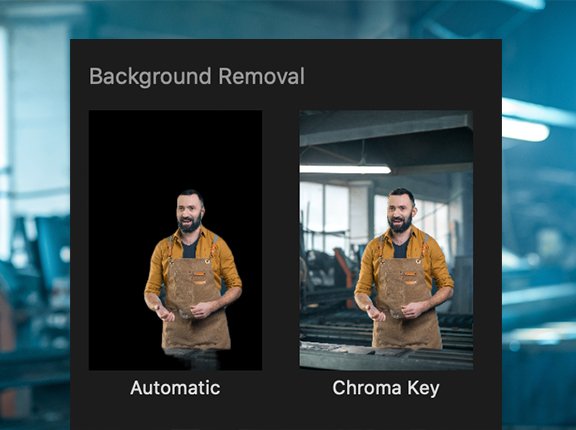 ScreenFlow also Gives You Closed Captioning Support
You may use ScreenFlow's video editor to add, modify, and publish ADA compliant soft subtitles as captions to your screencasts when exporting them as MP4 movies or YouTube videos. It has its own caption editing tool in the video editor. When you export your screencasts as MP4 films or YouTube videos, you may utilize it to create, edit, and publish ADA compliant soft subtitles as captions.
Some Screen Recording Software Tips From 15 Years' Experience:
Create your screen recording at the best resolution available to you on your hardware.
My computer is a 16" 2021 MacBook Pro with an M1 Pro Max processor, so I've got a powerful machine for screen recording, plus a lot of screen resolution available to me.
I usually record my computer screen from an attached LG monitor that has a native 16:9 resolution (more on that below). I feel like it's the best screen for the budget that works well with the Mac. It's set to a 3840x2160 screen resolution, which is 2x the size of a 1080P video. This gives me the ability to zoom into my screen 200% on a native 1080P timeline.
Record in a 16x9 computer screen ratio
Creating screen recordings at a native ratio to pro video editing applications allows for easier encoding to formats and easier delivery for YouTube videos. Screen recordings captured at non-standard ratios will result in letterboxing and pillar-boxing of the final deliverables and you might find this undesirable.
Again, my LG monitor allows video recording natively at 16:9, but if you're creating screen recordings directly from your laptop monitor, which likely is a different aspect ratio, you can use an app like SwitchResX to create a screen recording profile and switch the screen resolution to non-native settings.
Move screen capture footage to Pro Video Apps (as needed)
Even though Screenflow features very powerful video editing tools, sometimes you might need to move to a pro video editing app like Final Cut Pro or Adobe Premiere Pro for further editing, motion graphics, and more advanced features.
Even if you're new to video editing, if you're comfortable in Screenflow, you'll find Final Cut Pro easy to learn. They even use some similar keyboard shortcuts!
Screenflow makes this easy. After I make my screen recording, I do a few rough edits and then output my video files to a high video quality format like H.264, H.265, or ProRes 422, depending on the final content.
You're Not Limited to Computer Screen Recording!
Do you need a screen recording tool to capture your iPhone or iPad app to create videos? Don't worry, Screenflow does that, too!
Simply connect your iOS device via USB, start a new screen recording, and do your thing!
We do this all the time. After adding a few edits to the screen recording, export footage to your video editor or motion graphics app of choice. Then it's easy to composite the footage on on a 2D device (still image), or a 3D device (3D model) and create high quality videos from there
Reason # 3: Screenflow has Great Customer Support
If you need help, the Screenflow team is ready to assist you. They offer email support, live chat support, and phone support.
Screenflow also has a comprehensive user manual and video tutorials to help you get started.
I have been using Screenflow for years and had only had one serious issue, which was a MacOS issue, not a Telestream one. I found Telestream very responsive to my issue and the support community brainstormed fixes and workarounds that kept me working until they issued a fix.
Reason #4: Telestream has a Rich Ecosystem of Pro Video Utilities
While you might not need anything beyond Screenflow to create high-quality screen recordings, it's nice to know that there is a whole ecosystem of professional video utilities available from Telestream.
These include:
Wirecast - live streaming and recording software.
Telestream Vantage - a powerful, scalable, software-enabled media processing platform that manages all media services from the camera to the point of distribution.
Telestream Cloud - provides a full range of media processing services including transcoding, workflow automation, timed text transcription and quality assurance.
***
So those were our 4 reasons (plus a few more) we believe Telestream Screenflow is the best screen recording software.
Telestream Screenflow Frequently Asked Questions

How do I record my screen and audio with Telestream Screenflow?
You can easily record your screen and audio by clicking the red Record button in the Screenflow toolbar.
Can I edit my recordings with Telestream Screenflow?
Yes, Telestream Screenflow has an editing feature where you can trim, cut, and rearrange your recordings.
Does Telestream Screenflow have any stock media or graphics available for use in my recordings?
Yes, Screenflow offers a plan that includes access to a stock media and graphics library.
Can Telestream Screenflow export to various video file formats?
Yes, Telestream Screenflow allows you to export your recordings in various video file formats, including MP4 and MOV.
Can Telestream Screenflow be used on a PC or is it only compatible with Mac computers?
Telestream Screenflow is compatible with both Mac and PC.
Is Screenflow Worth the Price?
This ultimately depends on your needs and usage. Telestream Screenflow offers a variety of features for screen recording and editing, so it may be worth the price for those who frequently use these tools. However, if you only occasionally need to record and edit your screen, there may be more cost-effective options available. It's important to consider your specific needs before purchasing any software.
How Many Computers Can I Run Screenflow On?
With the standard license, Telestream Screenflow can only be used on one computer at a time. However, there is an option to purchase a multi-computer license that permits use on up to five computers.
Does Telestream Screenflow Offer Technical Support?
Yes, Telestream offers technical support for Screenflow users via phone, email, and live chat. Additionally, they have a comprehensive help center with frequently asked questions and tutorials.