ScreenFlow stands as an unmatched titan in the world of screen recording and video editing. It's time to unlock its full potential.
How to Buy Screenflow
First things first, if you're interested in purchasing Telestream Screenflow, use our link to get the best current price. This supports the blog and the work I do here.
I fully endorse Screenflow as the best screen recording software as I use it every day!
Buy Screenflow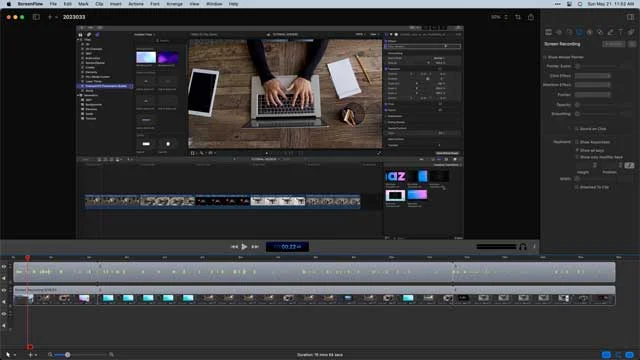 Getting Started with ScreenFlow
Before plunging into the intricacies of managing multiple A/V sources, you need a rock-solid grounding.
First step?
Get ScreenFlow up and running on your Mac.
Next, navigate the interface.
It's sleek, user-friendly, and designed for streamlined operation.
With that under your belt, you're prepped to tackle the more complex parts of this guide.
Understanding A/V Sources
Audio/Visual sources are your ticket to crafting riveting, multifaceted content.
So, what qualifies as an A/V source?
It's a broad spectrum, spanning microphones to webcams, screen captures to iOS devices.
Essentially, anything that brings audio or visual elements to your project.
It's vital to get acquainted with your arsenal. They form the backbone of your content.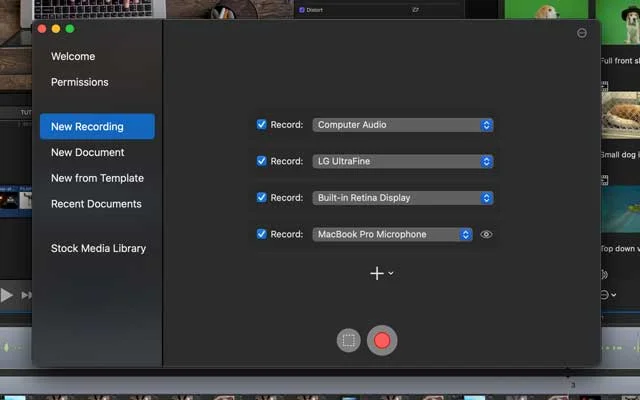 Recording with Multiple A/V Sources
Now, let's get to the heart of the matter – recording with multiple A/V sources. With ScreenFlow, it's a breeze.
Launch ScreenFlow.
Hit the camera icon or select "New Recording" from the File menu.
Choose your sources. Tick the boxes for your preferred audio and video sources. Remember, variety enhances your content.
Press the record button. You're now on the journey to creating vibrant, enthralling content.
Managing A/V Sources in ScreenFlow
Now that you're recording with multiple A/V sources, it's time to delve into management. ScreenFlow offers an assortment of choices.
Reordering Sources
Got your sources, but they're not in the right sequence? No sweat. Click and drag. That's all there is to it. ScreenFlow allows you to reorder with simplicity, ensuring your content flows seamlessly.
Editing A/V Sources
Editing is the stage where your content springs to life.
ScreenFlow's sophisticated editing suite empowers you to trim, split, and tweak your sources with exactitude.
Each source forms a separate layer. Shift, adjust, experiment. ScreenFlow affords you the liberty to mold your content to your liking.
Enhancing Your Content with ScreenFlow Features
ScreenFlow goes beyond mere recording and editing. It's teeming with features poised to take your content to the next level.
Annotations
Inject clarity and emphasis into your content with ScreenFlow's annotation feature. Draw attention to vital areas, incorporate shapes or text. Make your content appealing and easy to comprehend.
Touch Callouts
Presenting an iOS device recording? Utilize touch callouts. They display your touches, swipes, and pinches, rendering your content more intelligible and lively.
Video Actions
Make your content stand out with video actions. Focus on crucial details. Sweep across a scene. Inject motion. Video actions introduce a dynamic facet that keeps your audience engrossed.
FAQ
How can I add more A/V sources in ScreenFlow?
You can add more sources by accessing the recording window and selecting the additional sources you want to incorporate into your project.
What types of A/V sources are supported in ScreenFlow?
ScreenFlow supports a wide array of A/V sources including microphones, webcams, iOS devices, and system audio.
Can I individually edit A/V sources in ScreenFlow?
Absolutely, each A/V source is treated as a separate layer in ScreenFlow, which allows for individual editing.
How can I improve the quality of my ScreenFlow recordings?
For improved audio, use a high-quality microphone. For video, ensure good lighting. Also, make the most of ScreenFlow's editing features.
Can I rearrange the order of my A/V sources in ScreenFlow?
Yes, reordering your sources is as simple as clicking and dragging them in the editing window.
Can I use touch callouts in ScreenFlow?
Indeed, touch callouts in ScreenFlow visualize your touches, swipes, and pinches on an iOS device recording, making your content more clear and interactive.
Can I animate my content in ScreenFlow?
Yes, you can animate your content using ScreenFlow's video actions feature. It allows you to zoom, pan, and add motion to your content.
How can I manage multiple A/V sources in ScreenFlow?
Managing multiple A/V sources in ScreenFlow is straightforward. You can easily reorder your sources by clicking and dragging them in the editing window, and each source can be edited individually.
What are some ways to enhance my content in ScreenFlow?
You can enhance your content in ScreenFlow by using features such as annotations, touch callouts, and video actions. These features allow you to highlight important areas, visualize touches on an iOS device, and add dynamic motion to your content respectively.
How can I create engaging content with ScreenFlow?
Creating engaging content with ScreenFlow is all about utilizing the different features it offers. Mix and match different A/V sources, use annotations and touch callouts to emphasize key points, and animate your content with video actions to keep your audience captivated.