Ever felt overwhelmed by the number of apps available for your Mac or iOS device? And the hassle of managing them all?
Well, what if there was a way to access a curated collection of top-notch apps with just a single subscription?
Introducing Setapp, a game-changer in the world of productivity software that promises to revolutionize the way we use and manage apps.
Let's dive in and find out if Setapp lives up to the hype and how to install SetApp, and how to get started with the the app download for this amazing platform.
This page may include affiliate links.
But I only share apps and services that I use, love, and believe in.
To get the best deal and the latest pricing on SetApp, be sure to use our link to support this blog & the work we do.
Check Out SetApp Now!
Key Takeaways
Setapp simplifies digital life with a single subscription service to access over 240 Mac and iOS apps.
It provides an intuitive interface, helpful search feature, and efficient system resource consumption.
A great solution for those looking for convenience & affordability, but not ideal if you prefer direct app access without monthly fees!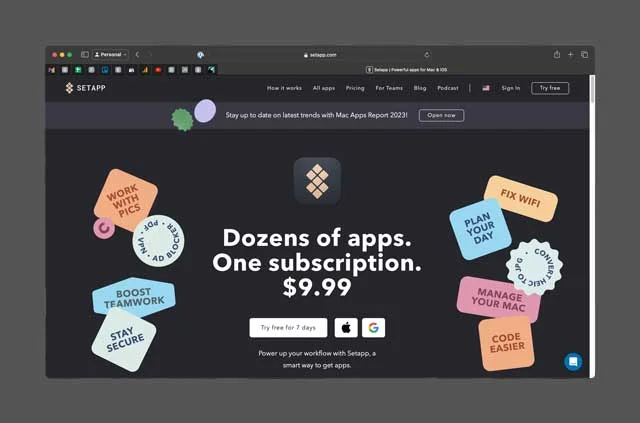 Introducing Setapp - What is SetApp?
Setapp claims to be the ultimate cloud-based productivity suite for Mac and iOS users, offering a treasure trove of over 240 Mac applications, all under one subscription.
Setapp allows you to manage and download a multitude of apps effortlessly, eliminating the need for individual app purchases or licenses.
Sounds too good to be true, right?
I'll put it to the test and see if it's really worth the hype.
Designed specifically for Mac and iOS devices, Setapp simplifies your digital life by offering a single subscription service for premium apps.
The creators of Setapp boast about the convenience and affordability it offers, but can it really deliver on its promises?
We will delve further into this to determine the primary audience of Setapp and the benefits they can get from it.
Whether you're a web developer, writer, or just someone looking for powerful Mac apps that can streamline your workflow, the Setapp team claims to have something for everyone.
With a growing library of apps, Setapp seems to be a great solution for users who want to get the most out of their devices.
But how easy is it to access and manage these apps, and who is the target audience for this service?
We shall investigate further.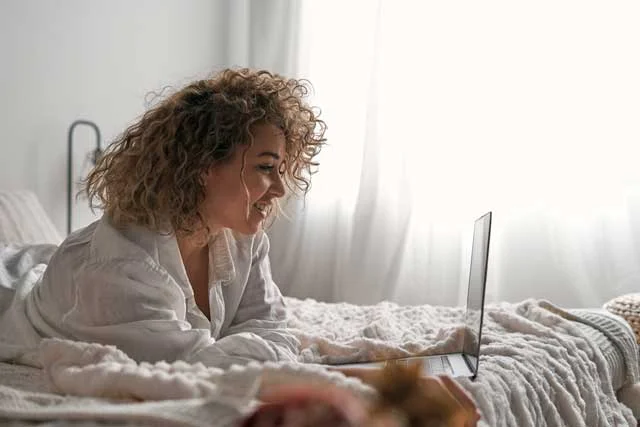 Targeted Users
To get started with Setapp, all you need is a Mac or iOS device and a willingness to explore the world of productivity apps.
The platform caters to tech enthusiasts, innovators, influencers, journalists/bloggers, and developers.
With a single subscription, users gain access to a vast selection of apps that cater to a wide range of tasks and interests.
Setapp also offers a team-based subscription option, allowing users to share the benefits of the platform with their colleagues.
This positions Setapp as a viable option for businesses and organizations seeking an effective solution to equip their Setapp team with necessary tools for their work.
The big question remains, though: how easy is it to download and install Setapp, and how does it perform in real-life scenarios?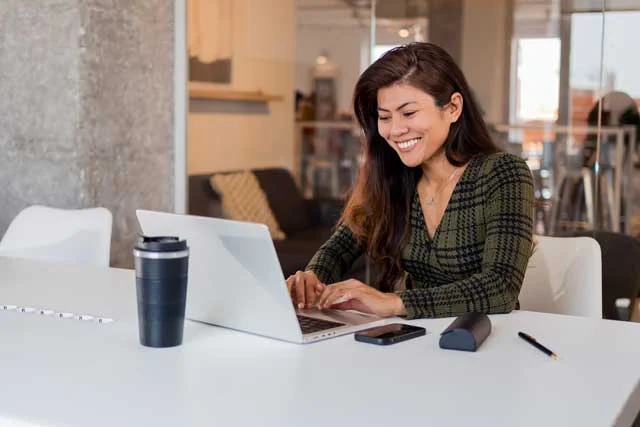 Downloading and Installing Setapp
Getting Setapp up and running on your device is a breeze. Simply follow these steps:
Head to the Setapp website.
Download the installer.
Follow the step-by-step instructions provided in the installation toolkit.
The installer can be found in your download directory, unless you've changed the settings in your browser.
Once you've downloaded Setapp, just follow these steps to download and install the platform on your device:
Launch the Setapp installer.
Follow the on-screen instructions to complete the installation process.
Make sure you have a stable internet connection during installation to prevent any complications.
After completing the installation, you'll be ready to explore the vast collection of apps Setapp has to offer.
If you ever decide to part ways with Setapp, uninstalling it from your Mac is a straightforward process.
This gives you direct access to your device without the Setapp interface, ensuring that the platform doesn't leave a footprint on your system if you choose to discontinue using it.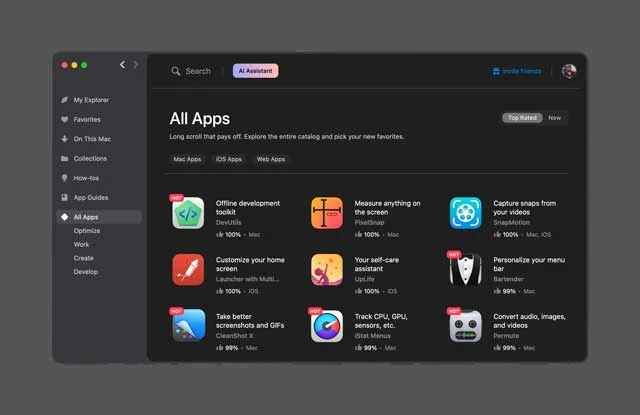 Setapp Interface and Usability
Setapp sports an interface akin to the App Store, facilitating easy exploration and access to the diverse array of apps on the platform.
The Setapp mobile application works seamlessly with the Setapp desktop app, ensuring a smooth and user-friendly experience across all iOS devices.
The platform also includes a handy search feature that suggests apps based on your needs, allowing for simultaneous configuration of multiple apps.
This built-in connector makes it simple to find the right app for the task at hand, ensuring that you spend more time being productive and less time searching for the right tool.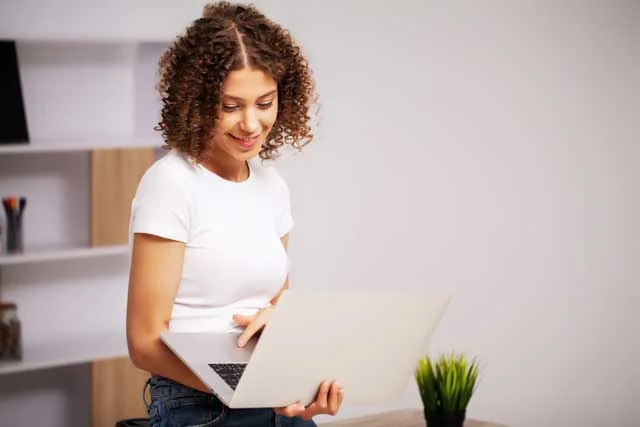 Setapp App Collection
The Setapp Collection stands out with over 240 Mac applications that cater to a vast spectrum of tasks and interests.
Apps are organized into collections, making it easy to find related tools and resources in one place.
Some standout features within the platform include Clean My Mac X, Setapp enabled inverters, and other useful utilities.
The range of apps within Setapp is ever-expanding and updating, as new additions from various developers are introduced, all vetted for quality and smartphone GDPR compliance.
This ensures that users always have access to the best and most up-to-date apps on the market.
Setapp offers a variety of tools for managing tasks, including:
Mac Optimization Tools
Mac Tools for Work and Productivity
Mac Apps for Creativity
Mac Apps for Developers
These features make life easier by simplifying the process of staying organized and on top of your work, no matter how complex or demanding your projects may be.
In addition to the productivity tools mentioned above, Setapp also offers apps like Encrypto, which allows for secure file sharing with AES-256 encryption, and The Unarchiver, a powerful RAR file opener for Macs.
With such a diverse collection of apps, Setapp ensures that users have everything they need to streamline their workflow and enhance their productivity.
List of Notable Apps Available with a SetApp Subscription
| App Name | Description | |
| --- | --- | --- |
| CleanMyMac X | A macOS cleaner and performance booster in one app. Get more done with a faster Mac​1​. | |
| CleanShot X | Learn how to capture videos, GIFs, scrollable content, and old good screenshots on the fly​1​. | |
| Downie | Download videos from YouTube, Facebook, Vimeo, and 1000+ other websites on your Mac​1​. | |
| Paste | Get back to the stuff you've copied before. Links, text, or screenshots, Paste saves it all​1​. | |
| Numi | Use words to calculate anything, from weights to distances, from currencies to time zones​1​. | |
| Session | Work in short sessions, block distractions, and reflect on your progress. Nail remote work​1​. | |
| Ulysses | Blank page + text editor + export and publishing tool. Ulysses enhances your writing flow​1​. | |
| ClearVPN | Watch movies unavailable in your location. Unlock new streaming services. Avoid FOMO​1​. | |
| Boom 3D | Make your music louder (beyond the regular limits), richer, and more lifelike with Boom 3D​1​. | |
| App Tamer | Tame the apps that use too much CPU and battery power. Work longer and faster on Mac​1​. | |
| HoudahSpot | Your Mac can do better than Spotlight. Enhance file search functionality with HoudahSpot​1​. | |
| Bike | Outline ideas and projects | |
| PDF Pals | Chat with your PDFs | |
| Secrets 4 | Store and manage passwords | |
| Clobbr | Test API endpoints | |
| WiFi Signal | Monitor your Wi-Fi connection | |
Real-Life Usage of Setapp
Users have reported good but mixed experiences with Setapp, including:
Praising the platform for its convenience and diverse app selection
Occasionally Encountering issues with certain apps like ClearVPN
Expressing concern about the subscription-based nature of the service, which may limit direct access to certain features if they decide to cancel their subscription.
Despite the potential drawbacks, many users have found Setapp to be an invaluable resource for accessing a wide array of powerful apps with just a single subscription.
The ease of installation and management of apps has also been highlighted as a key benefit of the platform, making it an attractive option for those looking to streamline their workflows and get the most out of their devices.
System Resource Consumption
Setapp is designed to be efficient and lightweight, for system requirements with minimal impact on device performance.
Its system resource consumption is relatively low, ensuring that your Mac or iOS device runs smoothly even while managing multiple apps simultaneously.
To maintain this performance, it's essential to meet the basic system requirements.
This means that users can enjoy the benefits of Setapp without having to worry about their devices becoming bogged down or unresponsive.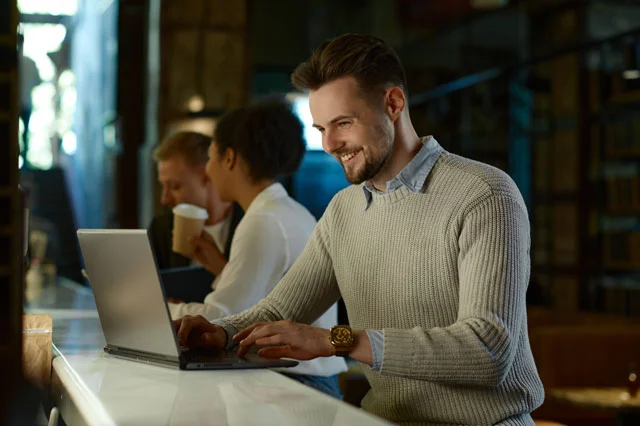 Subscription Service Analysis
A central feature of Setapp is its subscription model, offering users unrestricted access to the platform's broad app collection for a monthly charge.
While this may seem like a drawback to some, the value offered by Setapp's diverse app selection and convenient management system far outweighs the cost for many users.
However, keep in mind that discontinuing your Setapp subscription will result in loss of access to all the apps you've been using via the platform.
This may be a concern for some users, especially if they rely heavily on specific apps within Setapp for their day-to-day tasks.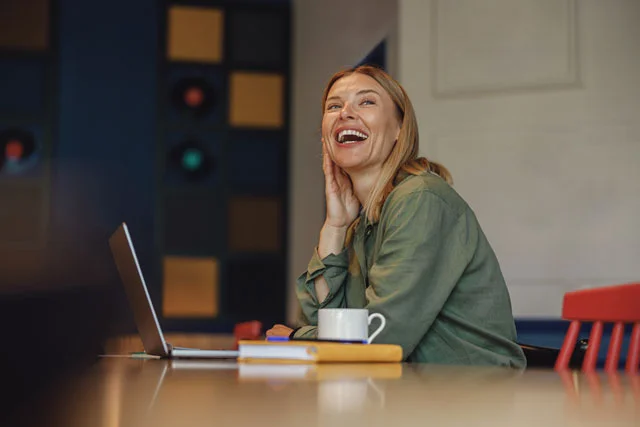 The Bottom Line on Setapp
So, is Setapp worth it?
Ultimately, the answer depends on your individual needs and preferences.
If you're a Mac or iOS user looking for a convenient and cost-effective way to access a vast array of high-quality apps, Setapp could be an excellent solution.
Its user-friendly interface, diverse app selection, and efficient management system make it a valuable resource for those looking to streamline their workflows and get the most out of their devices.
Despite these advantages, potential limitations such as restricted customizability and the subscription model may not align with everyone's preferences.
If you're someone who prefers to have direct access to individual apps without a monthly fee, Setapp may not be the best fit for you.
But for those who value convenience, affordability, and a diverse app selection, Setapp is definitely worth considering.
I think its definitely worth it based on the low price of the subscription and the amount of apps you have access to try and use daily.
Summary
In conclusion, Setapp offers a unique and valuable solution for Mac and iOS users seeking a convenient way to access a wide range of high-quality apps.
With its user-friendly interface, diverse app collection, and efficient management system, Setapp makes life easier for those looking to enhance their productivity and get the most out of their devices.
While there are some potential drawbacks, such as the subscription-based model and limited customizability, the benefits of Setapp far outweigh these concerns for many users.
So, if you're in search of a one-stop solution for all your app needs, Setapp could be just what you're looking for.
SetApp Frequently Asked Questions
How do I download Setapp?
To download and install Setapp, you can download the Setapp desktop app from your online account or any setapp.com page, or use this link to access the Setapp download page. Once downloaded, install Setapp and launch it to start exploring.
How to get Setapp for free?
Take advantage of Setapp's free 7-day trial period to get started with their service and enjoy it at no cost.
How do I download Setapp on iOS?
Download Setapp on your Mac, open the app page, click Get iOS App and scan the QR code with your Camera app. Then open the app on the App Store to activate it.
What is Setapp used for?
Setapp is a subscription service for Mac applications, with over 240 apps available for $9.99/month. It lets users download and use any of the apps in its catalog with ongoing updates to the latest versions included.
What is included in Setapp?
Setapp offers a subscription service of over 240 Mac apps for just $9.99/month. Get full access to all included apps, app updates and newly added apps. Plus, save 10% when you pay annually, and even more if you're a student or a teacher.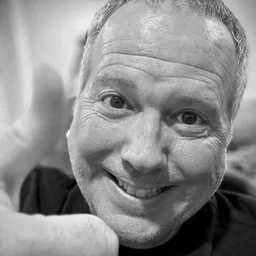 About the Author
Joseph Nilo has been working professionally in all aspects of audio and video production for over twenty years. His day-to-day work finds him working as a video editor, 2D and 3D motion graphics designer, voiceover artist and audio engineer, and colorist for corporate projects and feature films.