My name is Joseph Nilo, and I'm a video creator and media producer for HiLo Media. We create content for clients and I like to share things I've learned from my twenty years in video production and animation.
Today, let's talk about video SEO tools.
If you're wanting more views on your YouTube videos and more subscribers on your YouTube Channel, SEO or Search Engine Optimization should be important to you.
There are tons of SEO tools out there to do keyword research and help you create content. One of my favorites is SurferSEO.
What is SurferSEO?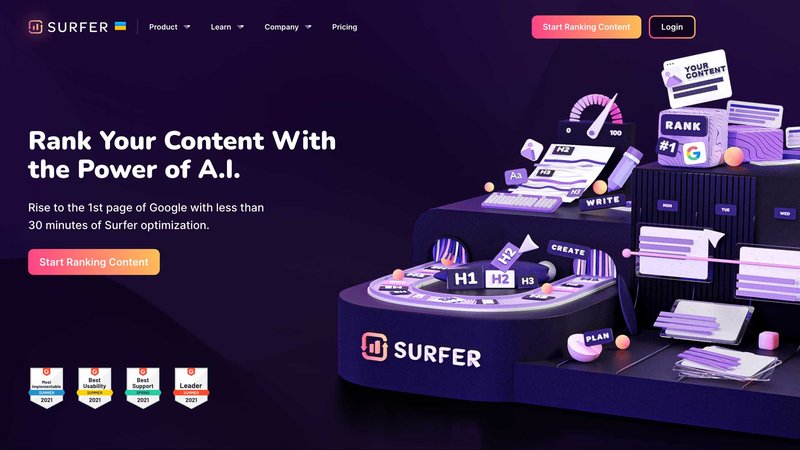 It's an AI-driven content strategy tool that analyzes the top ranking pages based on your target keywords, and uses natural language processing to give you suggestions on how to create content and rank it in search engines.
You can use it to write new material like blog posts, or even improve the content score of existing content.
I think it should be part of anyone's video marketing strategy. But how can it help improve the SEO of YouTube videos?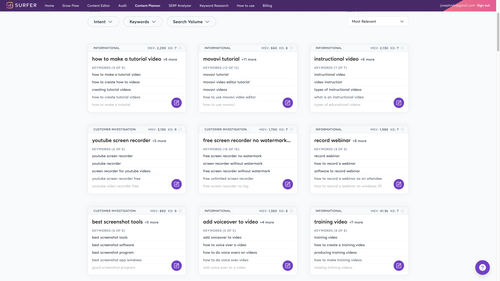 Start by planning your content using the SurferSEO Content Planner, a very powerful keyword research tool.
Choose some keywords you'd like to rank for and take a look at the Content Planner Summary.
This will make suggestions to you based on Monthly Search Volume, Keyword Difficulty to rank, and also will use natural language processing to guess the Customer Intent of the keywords.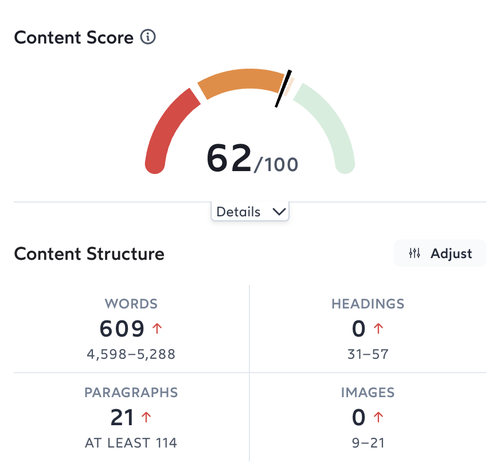 When you've decided on your approach, start a Content Editor.
Here you get a clean AI content writing assistant that looks and works simply like google docs.
We're writing a video script here, but remember, this tool is for any content for which you're trying to get organic traffic from search engines.
Follow the suggestions in the Content Editing tool, and do your best to keep raising your Content Score.
This tells you you're including the right keywords and you're heading in the right direction.
SurferSEO will also give you suggestions on how to outline an article, including keyword-rich Titles, Headings, and Questions. Plus a section of Competing articles of high-ranking articles.
So how does this work for your YouTube Video?
Once the script is written, create your YouTube Video as you normally would, using the script with all your relevant keywords and key phrases you created in SurferSEO.
All of the great text you created with the content editor tool needs to be both in your video and, to a smaller extent, in a keyword-optimized YouTube Video description.
Then the search engines can search for those keywords and recommend your video.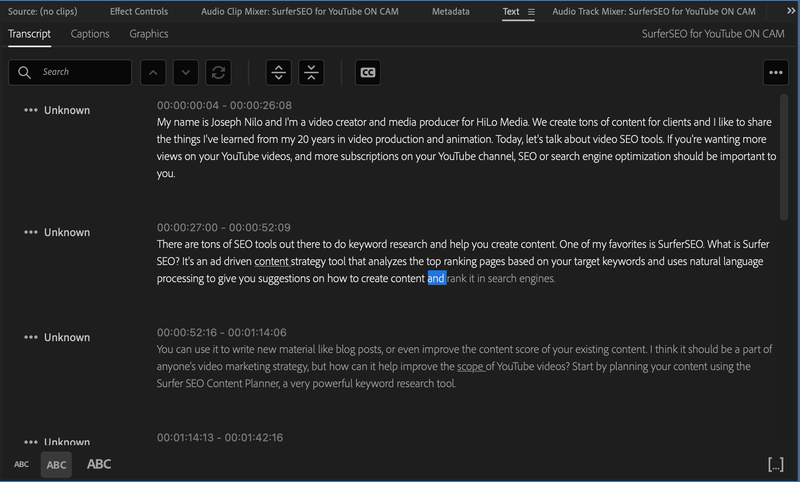 To effectively included searchable text in a YouTube video, I create a text transcript.
There are lots of apps that do this. I edit my video content in Premiere Pro and it has automatic audio to text transcription.
I use this as draft text and then edit anything the automatic transcription got wrong. Export this as an SRT file and upload it to YouTube with your video.
Include a summary in the description, plus use keyword appropriate Chapters, as well.
Including the text for the video on a blog post is effective, as well.
So that's the writing process I use to help my clients to get more organic traffic on their YouTube Videos and in social media posts.
***
I find SurferSEO to be really easy to use, intuitive, and effective. It's one of the few SEO tools I pay for every month, because it's not terribly expensive.
Check out SurferSEO and get writing more effective content!
SurferSEO for YouTube FAQ
Can SurferSEO be used for any website or language?
Yes, SurferSEO can be used for any website and in any language. Their platform supports over 100 languages, including English, Spanish, French, German, Polish, and more.
Is SurferSEO compatible with other SEO tools?
Yes, SurferSEO is compatible with other popular SEO tools such as SEMrush and Ahrefs. You can easily import data from these tools into SurferSEO to enhance your keyword research and on-page optimization efforts.
Does SurferSEO offer a free trial?
No, but there is a 7-day money-back guarantee.
Can SurferSEO be used for local SEO?
Definitely! SurferSEO offers a range of features specifically designed for local SEO, such as the Local Pack tool, which helps you track and improve your visibility in Google Maps search results.
Is SurferSEO affordable for small businesses?
They offer different pricing plans to accommodate the needs and budgets of businesses of all sizes, including affordable options for small businesses. Additionally, with SurferSEO's efficiency and accuracy in improving your website's SEO, the investment will likely pay off in the long run with increased website traffic and online visibility.
Does SurferSEO offer AI writing?
Yes, SurferSEO includes paid one-click AI writing using ChatGPT.
Does SurferSEO work with Jasper.ai?
Yes, if you connect SurferSEO with Jasper.ai you can enter what's called "SEO" mode, which will load your content editor in the left pane and gives you a content score as you write with the AI.
Is SurferSEO worth the price?
While the ultimate decision is up to each user, SurferSEO offers a range of valuable SEO tools and features that can greatly benefit and improve a website's search engine optimization strategy. Many users have reported seeing positive results and ROI from using SurferSEO.