Introduction
As you delve into the world of Apple, you'll discover that the best Mac compatible monitors take your user experience to new heights.
Whether you're a creative professional working on a Mac Studio or a college student with a MacBook Pro, an exceptional monitor can transform your work and play.
Below are the monitor reviews and buying guides.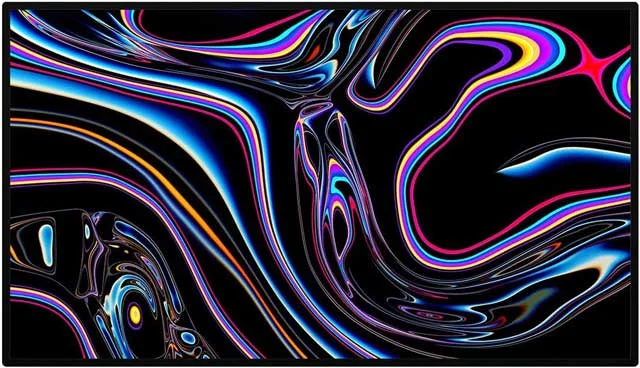 Best Overall: Apple Pro Display XDR
When it comes to the perfect match as your Macbook Pro monitor, the Apple Pro Display XDR stands out.
This monitor for MacBook, Mac Pro, Mac Studio, and other various Macbook pros models offers unmatched image quality, thanks to its Liquid Retina XDR display.
This feature ensures stunning visuals, whether you're photo editing, video editing, or gaming.
The Pro Display XDR isn't just about the visuals. It also features a six-speaker sound system that delivers rich and immersive audio.
You'll also find three USB-C ports, offering versatile connectivity options.
However, this level of performance and quality comes at a high cost, making the Pro Display XDR an investment.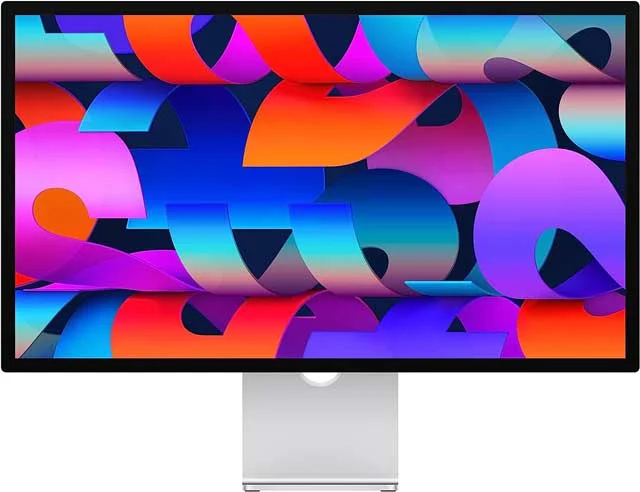 More Affordable Apple Display: Apple Studio Display
If you're looking for an Apple monitor that's more affordable than the Pro Display XDR, the Apple Studio Display is an excellent choice.
Designed with Mac users in mind, it offers an impressive blend of high-quality performance and more accessible pricing.
The Apple Studio Display features a 27-inch 5K Retina display, ensuring you get a high-resolution, crystal-clear viewing experience.
The monitor boasts a remarkable 14.7 million pixels, resulting in extraordinary detail and a high pixel density. This level of detail makes it a fantastic choice for creative professionals, as it ensures accurate and vibrant colors for photo editing, graphic design, and video editing.
One of the standout features of the Studio Display is the inclusion of a built-in webcam. This 12MP camera provides excellent image quality for video calls, making it a suitable choice for remote workers or those who frequently participate in online meetings.
In terms of audio, the Studio Display doesn't disappoint. It comes with a high-fidelity six-speaker sound system, which includes force-cancelling woofers to minimize vibrations while delivering rich, balanced audio. This feature makes the Studio Display a great all-in-one solution for those seeking both exceptional visuals and sound.
As for connectivity, the Studio Display offers three USB-C ports, providing a range of options for connecting peripherals and external displays.
It also supports Thunderbolt, allowing for fast data transfer and the ability to connect additional Thunderbolt-compatible devices.
In addition to these features, the Apple Studio Display also has a sleek and stylish design. It comes with an adjustable stand that allows you to set the height and tilt of external display of the monitor to your preference. An option for an external monitor with a VESA mount adapter is also available for those who prefer a different mounting solution.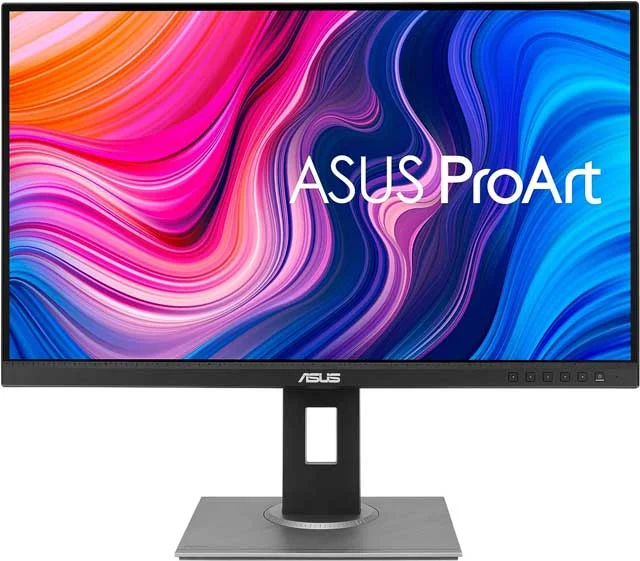 Best Budget Monitor: ASUS ProArt Display PA278QV
Not all the best monitors made for MacBook Pro and other Mac models have to break the bank.
The ASUS ProArt Display PA278QV is an excellent budget monitor for those who need top screen quality without a hefty price tag. It offers a balance of great picture quality and performance that makes it one of the best budget monitors for Mac users.
It's equipped with an IPS panel that delivers excellent color accuracy, essential for creative professionals. Its adjustability features, like a height-adjustable stand, mean you can set it up perfectly to suit your desk space.
This monitor includes a built-in KVM switch, making it easy to control multiple computers from one display.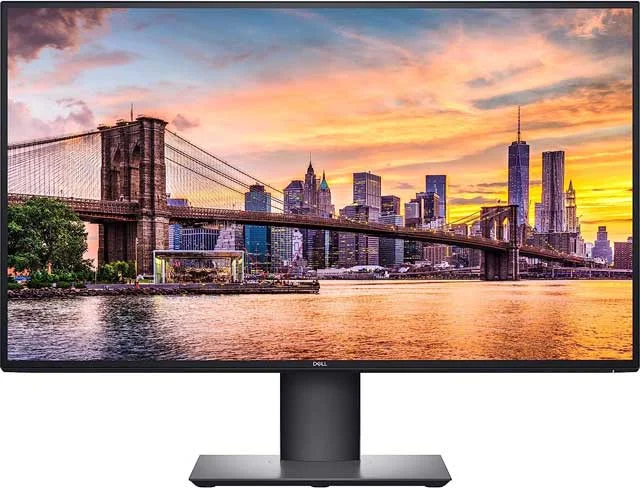 Best Mid-Range Monitor: Dell Ultrasharp U2720Q
If you're looking for best monitor for macbook with a balance between cost and performance, the Dell Ultrasharp U2720Q is a great choice. It's a monitor for MacBook Pro and other Mac models that offers excellent image quality and a high pixel density for a crisp and clear picture.
The Dell Ultrasharp U2720Q offers USB-C connectivity, making it easy to connect to your Mac. It also features a built-in USB hub with USB A ports and USB-C ports for additional peripherals.
This mid-range monitor is a solid choice for those who need excellent performance without the Pro Display XDR price.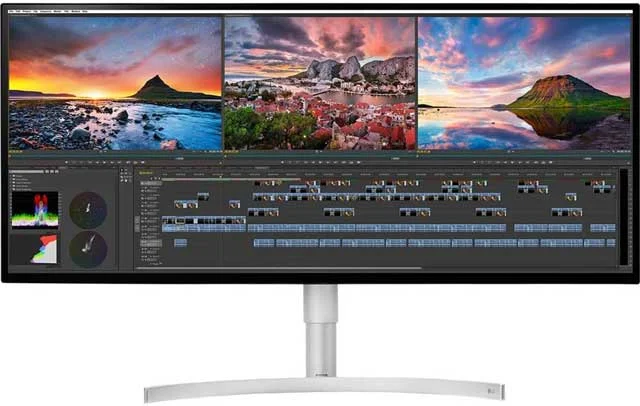 Best Ultrawide Monitor: LG 34WK95U-W
If you're after an expansive screen real estate, the LG 34WK95U-W is the best ultrawide monitor for your Mac.
This monitor, compatible with the MacBook Pro and Mac Studio, offers a stunning 34-inch 5K2K UltraWide display.
The IPS panel ensures accurate color reproduction, making it a perfect match for creative tasks like video and photo editing.
The LG 34WK95U-W comes equipped with several USB-C and HDMI ports, providing excellent connectivity options.
Its USB-C port supports power delivery, allowing it to charge your MacBook Pro while it's connected.
The monitor's screen resolution and high pixel density ensure that every detail is crisp and clear. With this monitor, you'll have all the screen space you need without sacrificing image quality.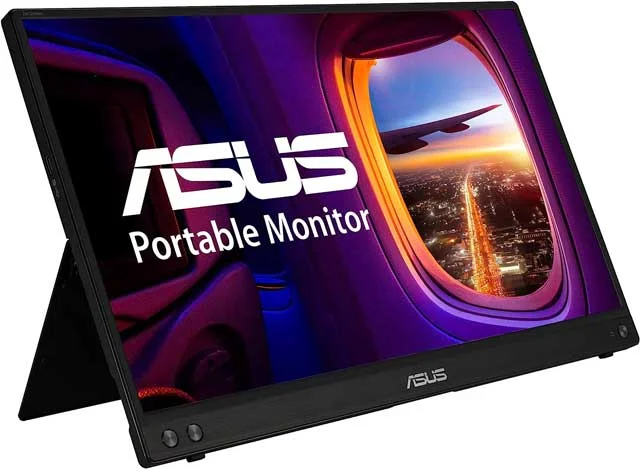 Best Portable Monitor: ASUS ZenScreen MB16AC
Whether you're a digital nomad or often work on the go, a portable monitor is a game-changer.
The ASUS ZenScreen MB16AC is our top pick for the best portable monitor for Mac users. It is lightweight, slim, and comes with a smart cover that doubles as a stand.
The 15.6-inch IPS panel delivers excellent picture quality, while its USB-C port allows for a quick and easy connection to your MacBook Pro.
The ZenScreen MB16AC supports both power and video through a single USB-C connection, making it a convenient external display for your Mac.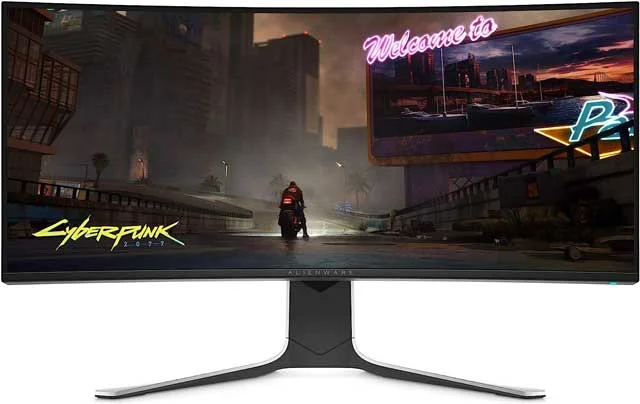 Best Monitor for Gaming: Alienware AW3420DW
For the Mac users who are also gaming enthusiasts, the Alienware AW3420DW is a fantastic choice.
This gaming monitor offers a fast refresh rate and low response time, ensuring smooth and lag-free gameplay.
Its 34-inch curved screen provides an immersive gaming experience, and the monitor's IPS panel delivers vibrant colors and deep blacks.
Despite its gaming credentials, this monitor also offers excellent performance for other tasks.
The built-in USB hub includes both USB-A and USB-C ports, offering a range of connectivity options.
It's a fantastic choice for MacBook Pro users who want to enjoy their favorite games in between work sessions.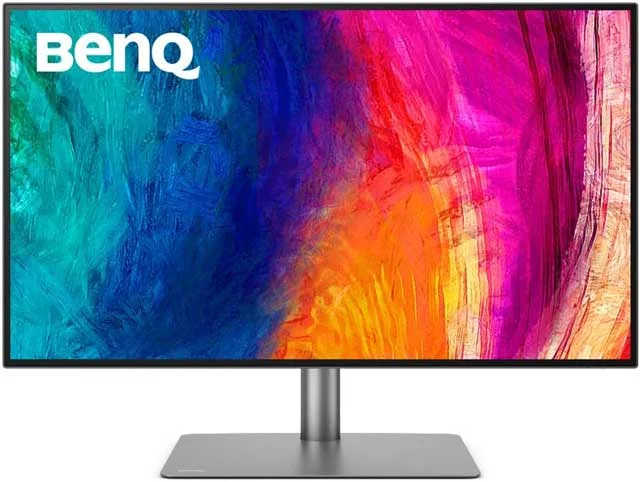 Best Monitor for Creative Professionals: BenQ PD3220U
The BenQ PD3220U is the best monitor for MacBook Pro owners who are also creative professionals.
It comes with a 4K UHD resolution and an IPS panel that ensures accurate and consistent colors.
The monitor's high pixel density means every detail of your work will be clear and sharp.
The PD3220U includes a Thunderbolt 3 port, which allows for daisy-chaining of multiple monitors, providing a boost to your screen real estate.
It also features a built-in KVM switch, enabling control of two computers from the external display with one keyboard and mouse.
With this external monitor, you can adjust the display settings to suit your needs, whether that's photo editing, video editing, or graphic design.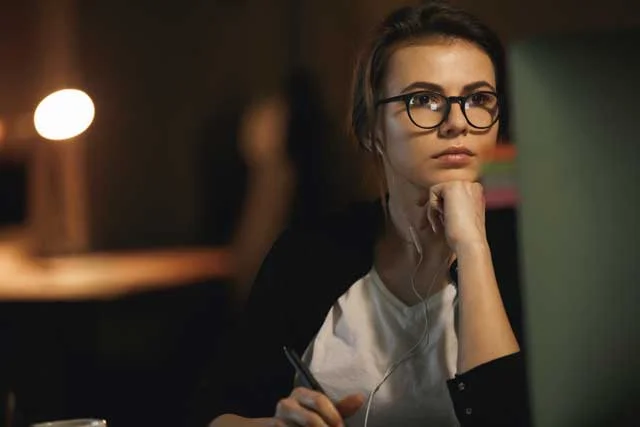 Factors to Consider When Buying a Monitor
When you're on the hunt for the best monitors for MacBook Pro, MacBook Air, or Mac Studio, several factors can make or break your choice of best monitors. Here are the crucial aspects best monitor that you should pay attention to:
Screen Resolution
Screen resolution refers to the number of pixels that a monitor can display, and it's typically expressed as width x height.
Higher resolution means more pixels and, therefore, more details and a sharper image.
If you're a creative professional or a gamer, look for a monitor with at least 1080p (Full HD) resolution.
For the ultimate viewing experience, consider monitors with 4K or 5K resolution, like the Apple Pro Display XDR or the LG 34WK95U-W.
Refresh Rate
The refresh rate of a monitor is the number of times it updates the image displayed per second. It's measured in hertz (Hz).
A higher refresh rate means smoother motion on the screen, which is particularly important for gaming.
Most monitors have a refresh rate of 60 Hz, but for gaming, you might want to consider monitors with a refresh rate of 120 Hz or higher, like the Alienware AW3420DW.
Connectivity Options
Monitors connect to your Mac through various ports, and it's essential to ensure that the monitor you choose has the right ones.
USB-C ports, found on the latest MacBook Pro and Mac Studio models, can handle both video output and power delivery, meaning you can use a single cable to connect your Mac to the monitor and charge it.
Other common connectivity options include HDMI ports, DisplayPort, and DVI.
Some monitors also come with built-in USB hubs, featuring USB-A and USB-C ports.
These can be handy for connecting peripherals like a keyboard, mouse, or external hard drive to external monitors.
Additional Features
While the factors above are crucial, some additional features can enhance your user experience.
For instance, some monitors, like Apple's Studio Display, come with a built-in webcam, making it easier for you to participate in video conferences or online meetings.
External speakers are another feature to consider. While the built-in speakers on most monitors won't match a dedicated sound system's quality, they can be convenient for casual listening or when desk space is at a premium.
By considering these factors, you can ensure that you choose a monitor that not only works with your Mac but also meets your unique needs and preferences.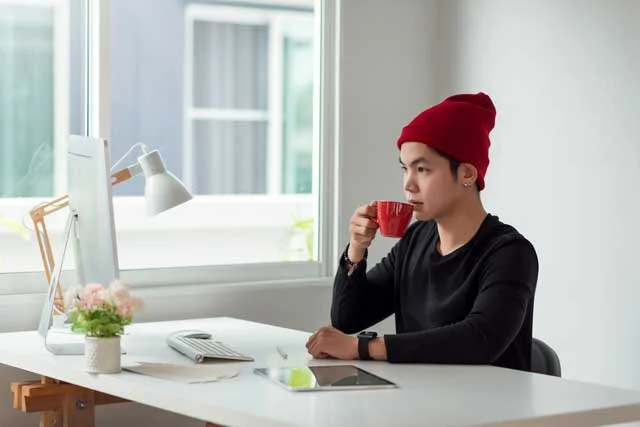 Monitor Setup Guide: Connecting Your Monitor to Your Mac
Setting up a new monitor with your Mac should be a straightforward process, but there are a few tips that can make it even smoother.
Firstly, identify the ports on your Mac and your new monitor.
Modern Macs, like the MacBook Pro and the Mac Studio, primarily use USB-C or Thunderbolt ports for display output.
However, monitors can have a variety of ports including HDMI, DisplayPort, DVI, and more.
If your Mac and monitor both have the same port (for instance, HDMI), all you need is a cable that has the same type of connector on both ends. But if they don't, you'll need an adapter or a cable that has two usb c ports with different connectors on each end.
Once you've connected your Mac to your monitor via the appropriate cable, the Mac should automatically detect the new display. You can then arrange the displays in the 'Displays' section of 'System Preferences' according to their physical layout on your desk.
Remember to adjust the resolution and refresh rate of the monitor to its recommended settings for the best viewing experience. This can also be done in the 'Displays' section of 'System Preferences.'
Monitor Maintenance Tips: Keeping Your Monitor in Top Condition
Just like any piece of technology, your monitor requires care to maintain its performance and longevity. Here are some tips on how to do that.
Cleaning your monitor is the first step.
Always power off the monitor and unplug it before cleaning. Use a soft, lint-free cloth and gently wipe the screen. If necessary, dampen the cloth with water or a screen cleaner solution, but never spray liquid directly onto the screen.
Managing cables is another important aspect.
Ensure your cables are neatly arranged and not tangled. This not only makes your workspace look tidy but can also prevent accidents and damage to the cables or ports.
Lastly, regularly check for firmware updates for your monitor. These updates can fix bugs, improve performance, and add new features. They can usually be found on the manufacturer's website.
Future of Monitors: Trends to Watch
As technology advances, so do monitors. Here are a few trends we're seeing in the industry.
OLED technology, known for its color accuracy and contrast ratio, is slowly making its way into desktop monitors. While still expensive, we expect to see more OLED monitors in the coming years as the technology becomes cheaper to produce.
Higher refresh rates are becoming more common, even in non-gaming monitors. A higher refresh rate makes on-screen movement smoother and can reduce eye strain.
Energy efficiency is another focus area for monitor manufacturers. Newer models are being designed to consume less power without sacrificing performance, which is not only good for your electricity bill but also for the environment.
Lastly, as more people work and learn from home, we're seeing more monitors being designed with these users in mind. This includes features like built-in webcams, microphones, and speakers, as well as eye-care technologies to reduce eye strain from long hours of use.
By staying updated on these trends, you can make more informed decisions when it's time to upgrade your monitor.
Best Monitors for Mac FAQ
Are all monitors compatible with Mac?
Yes, most modern monitors are compatible with Mac computers. The key factor is the type of connection that the monitor uses. Macs primarily use Thunderbolt or USB-C for display output, but adapters are available for other types of connections like HDMI or DisplayPort.
What kind of monitor can I use with a Mac?
You can use any monitor with your Mac as long as you have the correct cables or adapters. The kind of monitor you choose should depend on your needs. For example, creative professionals might prefer a high-resolution monitor with accurate color reproduction, while gamers might prioritize a monitor with a high refresh rate.
Can you use a non Apple monitor with a Mac?
Absolutely, you can use a non-Apple monitor with a Mac. While Apple's monitors, like the Apple Pro Display XDR and the Apple Studio Display, offer excellent performance and seamless integration with Mac computers, there are many other monitors from brands like Dell, LG, and ASUS that are also compatible with Macs.
Which monitor is compatible with Mac Studio?
The Mac Studio is compatible with most modern monitors. It includes a variety of ports, including Thunderbolt and USB-C, which allow for easy connection to a wide range of external displays. Apple's own Studio Display and Pro Display XDR are excellent options, but other monitors like the Dell Ultrasharp U2720Q or the LG 34WK95U-W are also compatible and offer excellent performance.
How does screen resolution impact my monitor's performance?
Screen resolution refers to the number of pixels that a monitor can display. A higher resolution means more pixels, resulting in a sharper and clearer image. For tasks like photo editing, video editing, or gaming, a higher resolution can significantly improve your experience.
What is the advantage of a monitor with a high refresh rate?
A high refresh rate, measured in hertz (Hz), means the monitor updates the image it displays more times per second. This results in smoother motion on the screen, which is particularly important for gaming or watching high-frame-rate videos.
What are the benefits of an ultrawide monitor?
Ultrawide monitors provide more horizontal screen space, which can be useful for multitasking. They allow you to have multiple windows open side-by-side, improving productivity. They also offer a more immersive viewing experience, making them popular for gaming and watching movies.
How important are the connectivity options in a monitor?
The connectivity options in a monitor are crucial as they determine how you can connect your Mac to the monitor. Look for a monitor with the same type of port as your Mac for the simplest connection. Monitors with built-in two USB ports or hubs are also handy, as they allow you to connect other peripherals directly to the monitor.
Can a monitor's built-in speakers replace external speakers?
While a monitor's built-in speakers can provide sound, they often can't match the quality of a dedicated best external monitor or speaker system. However, they can be a convenient option for casual listening or if desk space is at a premium.
What is the benefit of a monitor with a built-in webcam?
A monitor with a built-in webcam can make video conferencing and online meetings easier. It can provide a better image quality than some built-in laptop webcams, and it also means one less peripheral on your desk.