In today's digital age, the clamor for traffic, visibility, and top Google ranking URLs has never been more fierce.
To stand out, websites require in-depth SEO analysis and constant monitoring.
This is where tools like the Serpstat Website SEO Checker shine.
Serpstat, as an industry leader in the realm of SEO metrics, helps businesses navigate the complexities of today's digital landscape.
But with numerous tools available, what makes the Serpstat Website SEO Checker stand out?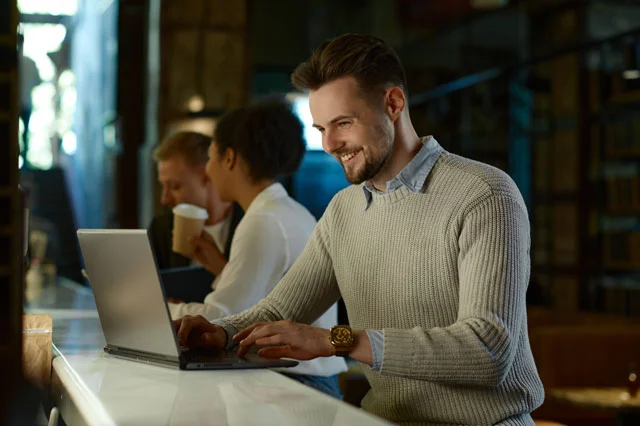 What is the Serpstat Website SEO Checker?
The Serpstat Website SEO Checker is a browser extension for Google Chrome, Firefox, Opera, and Microsoft Edge.
The Serpstat Website SEO Checker isn't just another SEO tool; it's a comprehensive platform designed for an in-depth analysis of your website's SEO metrics.
With just a few clicks, you get insights into domain analysis, keyword research, backlink tracking, rank tracking, and site audits.
The tool provides a glimpse into SEO parameters like HTML tags and meta tags.
Moreover, it sheds light on your domain or page visibility, traffic number of keywords, and data collection processes, ensuring businesses are always in the know.
Most Useful SEO Features:
Domain Analysis: Serpstat excels in domain analysis, offering detailed information about your website's visibility, the number of keywords it's ranking for, and much more.
For example, it can pull up an extensive list of your top competitors, revealing how your site ranks compared to them.
Keyword Research: Beyond providing a mere list, Serpstat's research tool dives into aspects like keyword ranking position change, missing keywords, and visibility change graphs. This tool doesn't stop at just the basics.
Backlink Analysis: Delving into who links to your site is just the beginning. Serpstat's backlink analysis lets you understand the quality of these links, identifying which ones might boost your Google ranking URL and which ones could be potentially harmful.
Site Audits: Detect errors, be it HTML tags missing keywords or other SEO features, that might be holding your site back. Serpstat classifies these errors into high, medium, or low priority, assisting you in making informed decisions.
Benefits:
Comprehensive SEO Tool: From SEO research to page analysis to site analysis, Serpstat offers a gamut of features that cater to both beginners and seasoned SEO experts.
Affordable Pricing Plans: Quality doesn't always have to break the bank. Serpstat offers varied pricing plans to fit different needs, ensuring every business, big or small, can benefit.
Positive Reviews: It's not just about the features but also which features work and how well they work. Users and experts alike have lauded Serpstat for its intuitive design and extensive list of effective SEO features.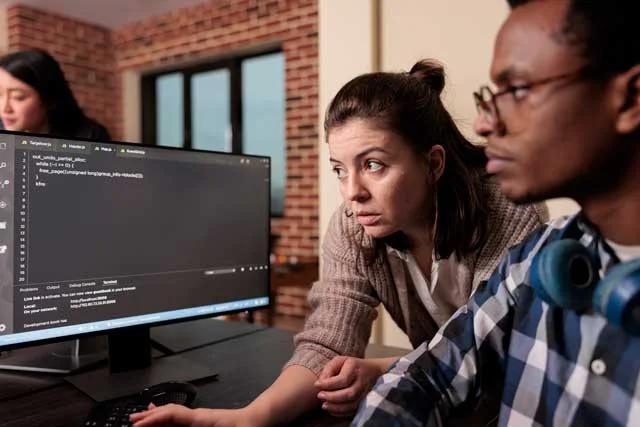 SEO Optimization Strategies with Serpstat Website SEO Checker
While having a tool like the Serpstat Website SEO Checker is pivotal, understanding how to harness its power is equally important.
Keyword Research and Targeting: Focus on keywords that drive traffic. Serpstat helps identify these golden keywords, but it's essential to create content around them that resonates with your audience.
On-Page Optimization: Beyond keyword integration, factors like meta tags, images, and content structure play a pivotal role in SEO. Serpstat gives insights into on-page SEO parameters, ensuring every page is optimized for success.
Link Building: Having a strong backlink profile can significantly impact your Google ranking. Utilizing tools within Serpstat, identify potential linking opportunities and keep an eye on competitors' backlink strategies.
Technical SEO: Dive deep into site audits to understand technical glitches that might be hampering your website's SEO. Whether it's broken links or page load times, Serpstat provides a comprehensive report on these issues.
Comprehensive Data and Facts
Serpstat Domain Optimization (SDO) Score: This unique metric provides an overview of how well-optimized a site is. Whether you're looking to improve your website or analyze a competitor, the SDO score offers valuable insights.
Error Classification: No website is perfect. The Serpstat website SEO checker ensures you prioritize fixing errors by categorizing them into high, medium, or low priority, helping you allocate resources efficiently.
Features In-Depth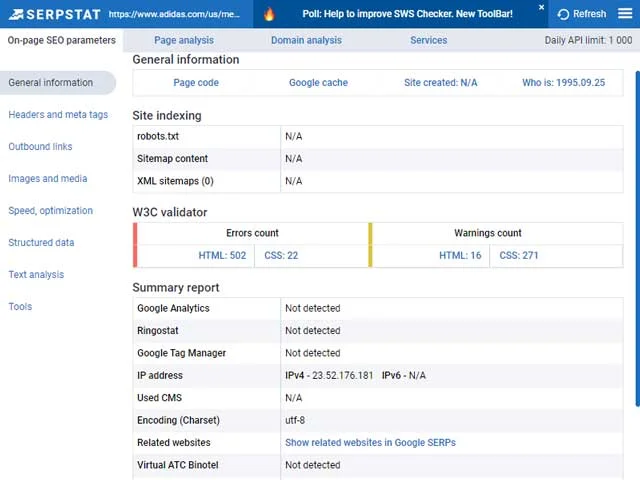 On-page SEO Details:
Home Page Analysis:
Get a snapshot of the main page including its registration and domain age details.
Swiftly assess the site's SEO performance through external resource audits.
Site Crawling Insights:
Obtain details on the site's robots.txt, its sitemap, and the contents within the XML sitemap.
W3C Validation:
Review the number of validation errors encountered on the site.
Platform Overview:
Uncover insights on the Content Management System (CMS) and other tools or services utilized by the website.
Social Engagement Metrics:
Gauge the website's popularity with data on shares, likes, and comments from platforms like Facebook and Pinterest.
Meta Information:
Analyze the primary meta tags for the home page such as the title, description, keywords, canonical links, pagination tags (previous and next), robots directive, mobile site availability (alternate tag), and the different language versions (hreflang).
Header Structure:
Get a breakdown of all headings from H1 to H6 and their respective content.
Link Insights:
Explore a comprehensive list of both internal and external links associated with your website. This includes URL details and anchor text descriptions. A convenient toggle option helps to differentiate between link types.
Media Elements:
Check the visibility and consistency of the site's favicon across varied platforms.
Image Breakdown:
Dive deep into the images hosted on the page, categorized by their size and format. For a granular view, you can select a specific size or format to see every related image.
Optimization & Performance:
Mobile-Readiness: Examine the site's optimization level for mobile user experiences.
Load Time Analysis: Assess the loading speed for desktops. Clicking on the specific section will provide a detailed report, suggesting improvements for site speed.
Advanced Features:
Microdata Review:
Browse through the results derived from the micro-markup analysis conducted on the site.
Content Overview:
Extract key statistics about the text on the page, including word and character counts.
Typography Highlights:
Identify which parts of the content are emphasized using tags such as "b", "strong", "i", and "em".
Server Insights:
HTTP Status Check:
Verify the HTTP server's response code for the website.
HTTP Headers Review:
Examine the site's HTTP header details for troubleshooting and optimization.
By understanding and utilizing these features, users can obtain a holistic view of their website's on-page SEO, helping them to make informed decisions and improvements.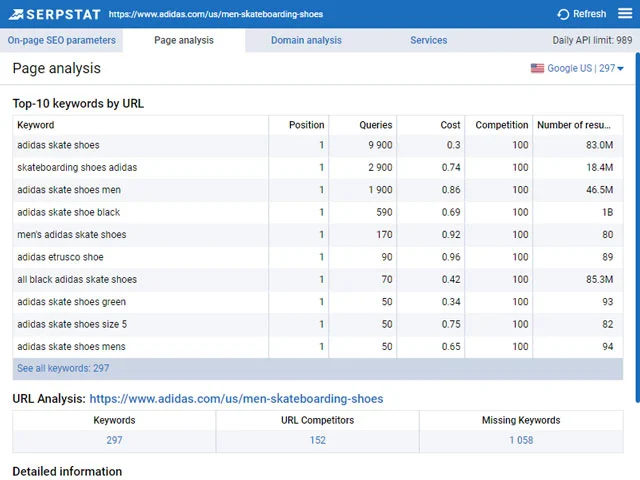 Page Analysis Breakdown:
Keyword Rankings Insights:
Discover the top 10 keywords associated with the URL that rank within the first ten search results. These are pivotal indicators of the content's SEO effectiveness and its visibility in search engines.
Competitor Landscape & Opportunities:
Dive deep with the URL Analysis tool to comprehend the competitive landscape of your page in the search results. Understand which keywords are driving traffic to your page and identify potential missed opportunities — queries for which other similar URLs rank but yours doesn't.
Comprehensive Report Access:
For those keen on drilling down further, the platform provides swift access to Serpstat's most sought-after reports. Users can seamlessly navigate to in-depth analyses offered under the Domain Analysis, SEO-analysis, and PPC-analysis modules, ensuring a 360-degree understanding of their website's performance.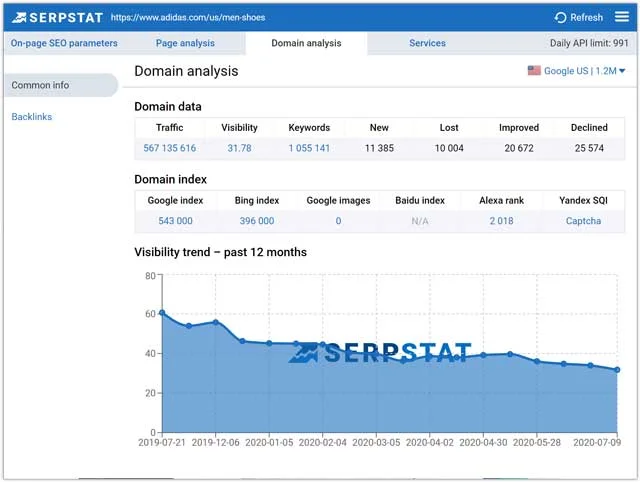 Domain Analysis Overview:
Backlink Insights:
Core Overview: Gain comprehensive insights with a dedicated section revealing crucial data about the backlinks pointing to the analyzed domain.
Safety & Type Check: Identify potentially harmful links pointing to your site using a verification algorithm akin to Google Chrome's. Additionally, categorize the backlinks by type, such as text, image, or redirect, providing a holistic understanding of the link profile.
Domain Strength Metrics: Measure the domain's authority and reputation with the Serpstat Domain Rank (SDR) which provides a score between 0 and 100, indicating the domain's credibility and strength.
High-performing Pages: Identify which specific domain pages are the magnets for backlinks. These are sorted hierarchically based on the number of backlinks they've attracted.
Backlink Growth Trend: Visualize the momentum of your backlink acquisition efforts with the referring domains graph, showcasing the change in backlink count over time.
General Domain Metrics:
Key Domain Metrics: Explore the foundational metrics of the domain, including vital stats and keywords propelling the site's rankings.
Comprehensive Search Engine Ranking: Understand where the domain stands across major search engines, such as Google, Bing, Baidu, and Yandex, as well as niche platforms like Google Images. Also, get insights into its Alexa Rank.
Year-long Visibility Trend: Chart out the domain's SEO journey with a detailed graph elucidating the fluctuations in domain visibility within organic search over the previous year.
Conclusion
In the competitive world of SEO, tools like the Serpstat Website SEO Checker are indispensable.
With its array of features, affordable pricing plans, and glowing reviews, it's clear that Serpstat is a must-have for anyone looking to up their SEO game.
In the evolving digital landscape, using sophisticated tools isn't just a luxury—it's a necessity.
Serpstat Website SEO Checker FAQ
How do I check my website for SEO? With tools like the Serpstat Website SEO Checker browser extensions, you can get the key metrics of your website's SEO in just a few clicks.
Is Serpstat free? Serpstat offers a freemium model. While they provide a free version with limited features, for full access to all serpstat servers its SEO features, one of their paid plans is necessary.
What is Serpstat used for? Serpstat is primarily used for an SEO audit, which includes domain analytics, research, backlink analysis, and site audits, among others.
How do I check my website SEO on Google? While Serpstat provides a comprehensive analysis, you can also use Google's tools like the Google Search Console and Google's Keyword Planner Tool for specific insights.
How does Serpstat compare with other SEO tools?
Serpstat is a comprehensive SEO and SEM platform that offers a variety of tools ranging from keyword research to backlink analysis. When compared to other SEO tools, there are several distinguishing features:
All-in-One Platform: Serpstat provides a suite of tools that address multiple aspects of SEO and SEM, making it a one-stop solution for marketers.
Database Size: Boasting a massive keyword database and extensive backlink index, Serpstat provides in-depth data across multiple geographies and search engines.
Competitive Pricing: While offering similar, if not more features than many leading tools, Serpstat's pricing is competitive, providing good value for money.
User Experience: Serpstat is known for its intuitive user interface which is beginner-friendly while also catering to advanced users with more in-depth data and filtering options.
Unique Metrics: With tools like Serpstat Domain Rank (SDR) and visibility metrics, Serpstat provides data points that are exclusive to its platform.
However, the right tool often depends on specific user needs and preferences. It's recommended to take advantage of trial versions or demo features to see which tool aligns best with your objectives.
How frequently should I check my website's SEO using Serpstat?
The frequency of SEO checks depends on your website's goals, the level of competition in your niche, and the pace at which you're making updates or changes to your site. However, as a general guideline:
New or Redesigned Websites: Daily checks for the first couple of weeks to monitor for any potential issues and to ensure that everything is being indexed properly.
Active Websites (frequent content updates, backlink building): Weekly checks are beneficial to keep an eye on keyword ranking changes, backlink acquisition, or any technical issues that might arise.
Stable Websites: Monthly checks should suffice. This will help in monitoring overall health, tracking slow-moving key metrics, and spotting long-term trends.
Remember, while regular checks are important, it's equally crucial not to overreact to minor fluctuations in rankings or other key metrics. SEO is a long-term game, and patience is often key.
Does Serpstat offer support or tutorials for new users?
Yes, Serpstat is committed to ensuring its users can make the most of its platform. They offer:
Knowledge Base: A comprehensive library of articles that detail every feature of Serpstat, providing step-by-step guidance on how to use each tool.
Video Tutorials: Visual learners can benefit from a series of video guides and webinars that delve into both basic and advanced features of Serpstat.
Live Chat Support: For immediate queries or technical issues, users can access Serpstat's live chat feature to get real-time assistance.
Dedicated Account Managers: Premium or enterprise account holders often have access to dedicated account managers who provide personalized guidance and training sessions.
Community Forums & Groups: Serpstat has an active community where users can ask questions, share insights, and learn from each other's experiences.
By combining these major features and resources, new users can quickly ramp up and harness the full power of the Serpstat Website SEO Checker for their SEO and SEM needs.