In the competitive realm of digital marketing, it's not just about crafting content; it's about wielding the best tools in your arsenal.
That's where two of the best SEO Tools: Serpstat and SEMRush come into play.
Both have left indelible marks in the field of search engine optimization. But which SEO tool should you invest your time and money in?
Let's embark on an in-depth analysis.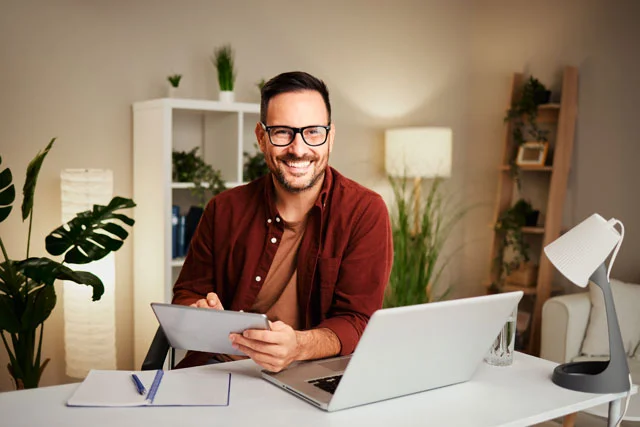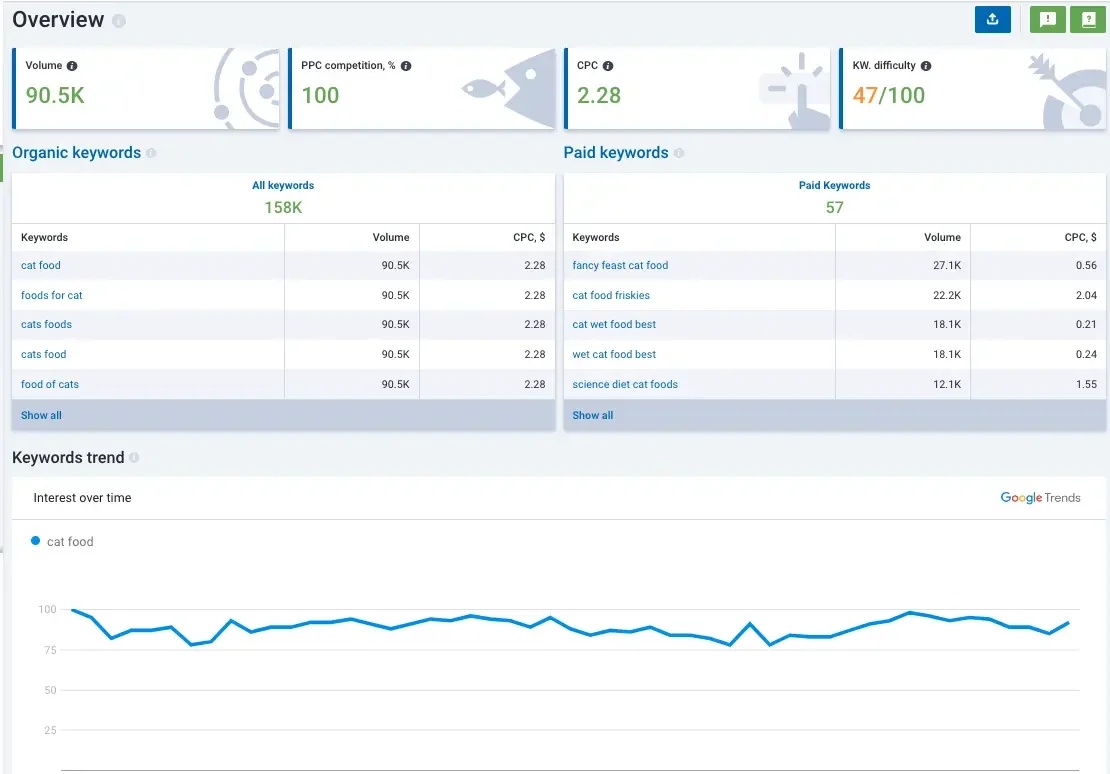 Serpstat: An Evolving Legend
Introduced in 2013, Serpstat quickly made its mark as a dedicated keyword research tool.
Today, it's a jack-of-all-trades SEO Tool, encompassing a myriad of features indispensable for SEO professionals and PPC specialists alike.
Boasting over 200,000 users, its rising popularity can be attributed to its pocket-friendly plans and intuitive interface. Let's delve into its offerings:
Rank Tracking: Know where your website stands in search engine results. Serpstat's rank tracking tools are comprehensive, ensuring you're always on top of your game.
Backlink Analysis: Dive deep into backlinks, referring domains, and more. Understand the web of interconnectivity, and harness it for your site's gain.
Keyword Research: With Serpstat's keyword research tools, you not only get relevant keyword ideas but also insights into search volume, organic keywords, and potential keyword difficulty.
Competitor Analysis: In the digital space, knowledge is power. Understand what your competitors are doing right (or wrong), and strategize accordingly.
SEO Writing assistant tool: A new addition to the SEO Tools included in Serptat is an AI tool to help you create content.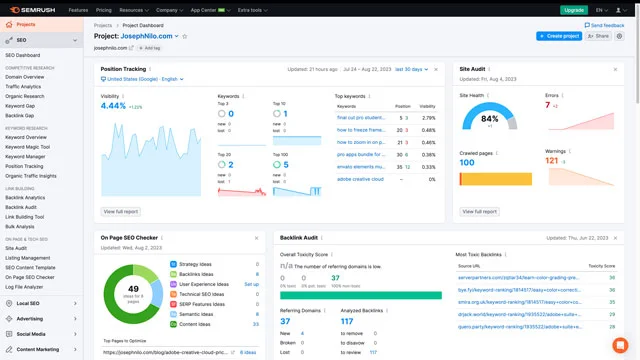 SEMRush: The Comprehensive Contender
SEMRush isn't just a Search Engine Optimization tool; it's an ecosystem.
Since 2008, it has consistently proven to be a favorite amongst marketers, with an impressive user base surpassing 7 million.
But what makes SEMRush stand out?
Keyword Magic Tool: Going beyond basic keyword research, SEMRush offers the keyword magic tool. This provides a broader range of related keywords, keyword rankings, and even monthly search volume.
Domain Analysis: Using SEMRush's domain analysis, not only can you uncover technical SEO issues with its robust site audit feature, but you can also gain insights into content quality, backlink analytics, and more.
Competitive Research: SEMRush steps up the game with in-depth competitor analysis. From organic search performance, paid keywords, to social media strategies, it leaves no stone unturned.
Social Media Capabilities: In today's digital age, social media is intertwined with SEO. SEMRush recognizes this, offering tools to analyze, post, and succeed in the social realm.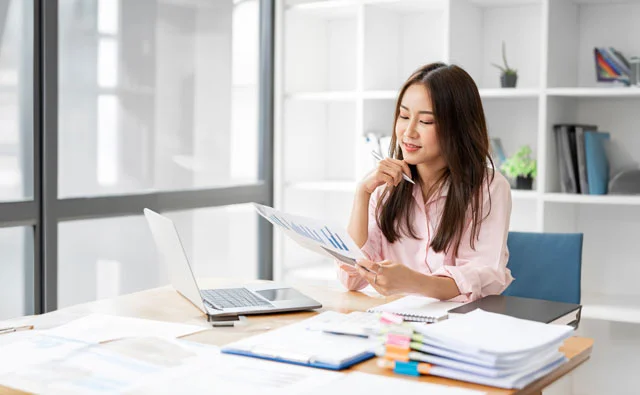 Serpstat vs. SEMRush: A Comparison
User Experience: While Serpstat offers a streamlined interface, SEMRush provides a dashboard filled with data visualizations, perhaps requiring a slight climb up the learning curve.
Keyword Capabilities: Both tools excel in keyword research. But while Serpstat focuses on keyword suggestions and relevant data points, SEMRush provides a more extensive database, including keyword gap analysis, organic traffic insights, and the unique keyword magic tool.
Technical SEO: When it comes to diving into the nitty-gritty of your site's performance, both tools are exemplary. Serpstat offers site audit tools, focusing on technical SEO issues, whereas SEMRush provides a comprehensive overview, including content and backlink auditing.
Budgeting: Affordability is Serpstat's forte, with plans starting at $69. In contrast, SEMRush, with its extensive suite of tools, starts at $119.95. However, both offer trials and basic features for free, ensuring you find the right fit before diving into your pockets.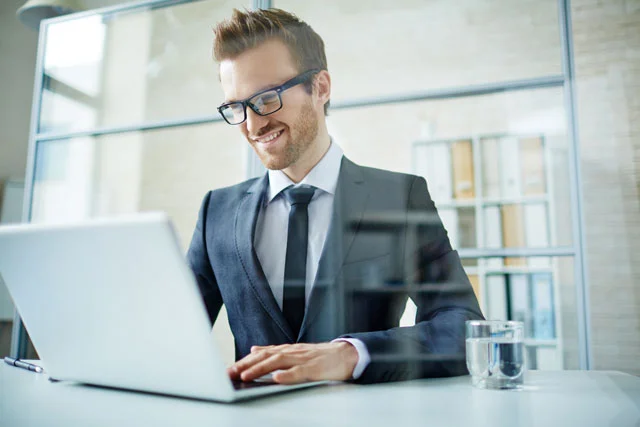 SEMRush vs Serpstat: A Feature-by-Feature Breakdown
SEO professionals and digital marketers often find themselves at a crossroads, choosing between two titans of the industry: Serpstat and SEMRush.
To make your decision-making process a tad easier, let's unravel the intricacies of both tools across five pivotal features.
1. Keyword Research Tools:
Serpstat: Serpstat's keyword research tool is comprehensive, offering insights into search volume, keyword trends, and the organic keywords of competitors. The platform provides a list of related keywords, giving users a broad view of potential keyword strategies.
SEMRush: The Keyword Magic Tool of SEMRush is nothing short of revolutionary. With this tool, users can delve into a massive database of keywords, segment them into groups based on specific topics, and receive detailed metrics on each keyword. The platform also provides insights on phrase matches, exact matches, and related keywords.
2. Keyword Difficulty:
Serpstat: Keyword difficulty in Serpstat is analyzed using a score, which depicts how tough it would be to rank for a particular keyword. It takes into account the domain's backlink profiles and the optimization strategies of top-ranking pages.
SEMRush: SEMRush's keyword difficulty metric is renowned for its accuracy. It assesses a keyword's competitiveness on a scale of 1 to 100. The higher the score, the tougher it is to rank for the keyword. It's based on the authority of the domains ranking in the SERPs and their backlink profiles.
3. Backlink Analysis:
Serpstat: Serpstat's backlink analysis tool gives insights into a domain's backlink profile, referring domains, and the quality of the links. It allows users to spot potentially harmful links and understand their site's or competitors' backlink strategies.
SEMRush: With SEMRush, backlink analysis is exhaustive. The platform provides a visual representation of a site's backlink growth over time. Users can check the authority of referring domains, the geographic location of backlinks, anchor text data, and top referring content.
4. Relevant Keyword Suggestions:
Serpstat: One of Serpstat's strengths is its ability to provide relevant keyword suggestions based on user queries. It gives an expansive list of keywords, often uncovering gems that might be missed with a cursory search.
SEMRush: SEMRush's Keyword Magic Tool, apart from its primary research function, is adept at providing relevant keyword suggestions. These are grouped by topic, making it easy for users to devise content strategies around clusters of keywords.
5. Related Keywords:
Serpstat: The platform offers a 'related keywords' feature that provides search queries related to the input keyword. These can be beneficial for broadening the keyword strategy and understanding associated terms in the niche.
SEMRush: With SEMRush, users get a detailed view of related keywords, including their search volume, trend data, and keyword difficulty scores. The tool also suggests semantically related keywords that might not have the exact search term but are contextually relevant.
SEMRush and Serpstat Pricing Plans
| | | |
| --- | --- | --- |
| Plan  | Serpstat  | SEMrush |
| Lite/Pro  | $69  | $119.95 |
| Standard  | $149  | $229.95  |
| Advanced  | $299  | $449.95  |
| Enterprise | $499  | na |
Serpstat offers more affordable pricing plans compared to SEMrush.
The Lite plan from Serpstat starts at $69 per month, while the Pro plan from SEMrush starts at $119.95 per month.
However, SEMrush is known for its more robust features and tools.
If you're on a tight budget, Serpstat might be a better option, but if you're looking for more advanced features, SEMrush could be worth the higher price.
Conclusion
The contest between Serpstat and SEMRush for your content marketing isn't a clear knockout. Instead, it's a balance of preferences.
If you're a budding digital marketer seeking an affordable, feature-rich SEO tool, Serpstat could be your go-to.
However, for those looking for a comprehensive suite encompassing every facet of SEO and beyond, SEMRush might be the golden ticket.
Our Pick, based on features and affordability, is Serpstat.
Frequently Asked Questions
What are the benefits of Serpstat?
Serpstat offers a myriad of benefits. It's affordable, user-friendly, and specializes in keyword research and competitor analysis. With features like rank tracking, backlink analysis, and a robust keyword research tool, it's a favorite among many.
Is SE ranking better than Serpstat?
SE ranking and Serpstat both have their strengths. While Serpstat is lauded for its affordability and comprehensive keyword tools, SE ranking offers diverse features like social media management and PPC analysis. The choice depends on individual needs.
Who are the competitors of SEMRush?
SEMRush, being a stalwart in the SEO industry, has many competitors, including Serpstat, Ahrefs, Moz, and Ubersuggest. Each tool has its unique strengths.
Is Serpstat really worth it?
Absolutely! For many digital marketers, Serpstat's comprehensive toolkit, encompassing SEO, PPC, and social media, makes it indispensable. And the pricing is appropriate for both startups and independent marketers and SEOs.