When it comes to SEO tools, the market is flooded with options.
But not all tools are created equal.
Enter Serpstat, a comprehensive SEO software suite that promises to be a game-changer for digital marketers, SEO agencies, and website owners alike.
I've been working on the SEO of my various websites for years and I've tried all the tools.
I was intrigued by Serpstat based on the long list of features and the pricing plans compare to the other tools.
It's far less expensive than the big players in the SEO platform space.
Let's dive deep into what makes this "growth hacking tool" stand out in my Serpstat Review.
What is Serpstat?
Serpstat is not just another SEO tool; it's a comprehensive keyword research tool, site audit tool, backlink analysis tool, and so much more.
With its extensive keyword research functionality, you can identify winning keywords, delve into related keywords, and even get insights into relevant keywords from search suggestions.
Its site audit report is detailed, highlighting technical errors and providing actionable recommendations.
The backlink analysis tool offers insights into referring domains, new and lost backlinks, and the quality of these backlinks.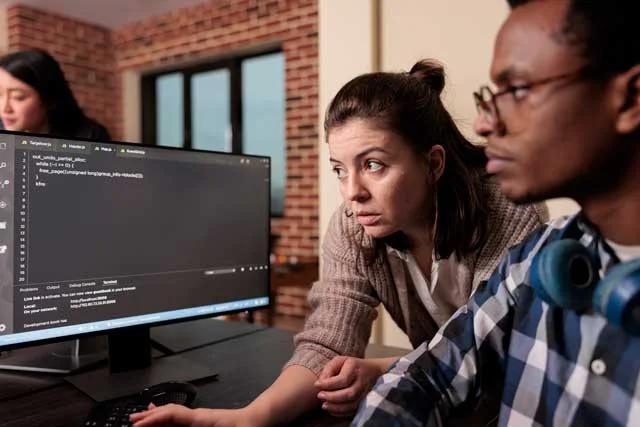 Key Features of Serpstat
Comprehensive Keyword Research: Dive deep into keyword difficulty, search volume, and keyword position distribution. With Serpstat's extensive keyword research capabilities, you can uncover organic keywords that can boost your search engine visibility.
Site Audit: Serpstat's site audit report is a gem. It identifies technical issues on your site, from meta tags to content issues, and provides actionable recommendations to enhance your SEO efforts.
Backlink Analysis: Understand your backlink profile. From referring domains to lost backlinks, Serpstat provides a comprehensive backlink analysis.
Rank Tracking: Track rankings for specific keywords across different search engines. Understand where you stand and strategize accordingly. I check my Rank Tracking daily!
Competitive Analysis: How does your website stack up against the competition? Serpstat provides insights into your competitors' SEO strategies, helping you stay one step ahead.
AI Content Generation: Serpstat has thrown its hat into the ring to join the services that offer AI Content creation. This is a nice addition that the other big players in the space don't have (yet).
Serpstat Key Features Deep Dive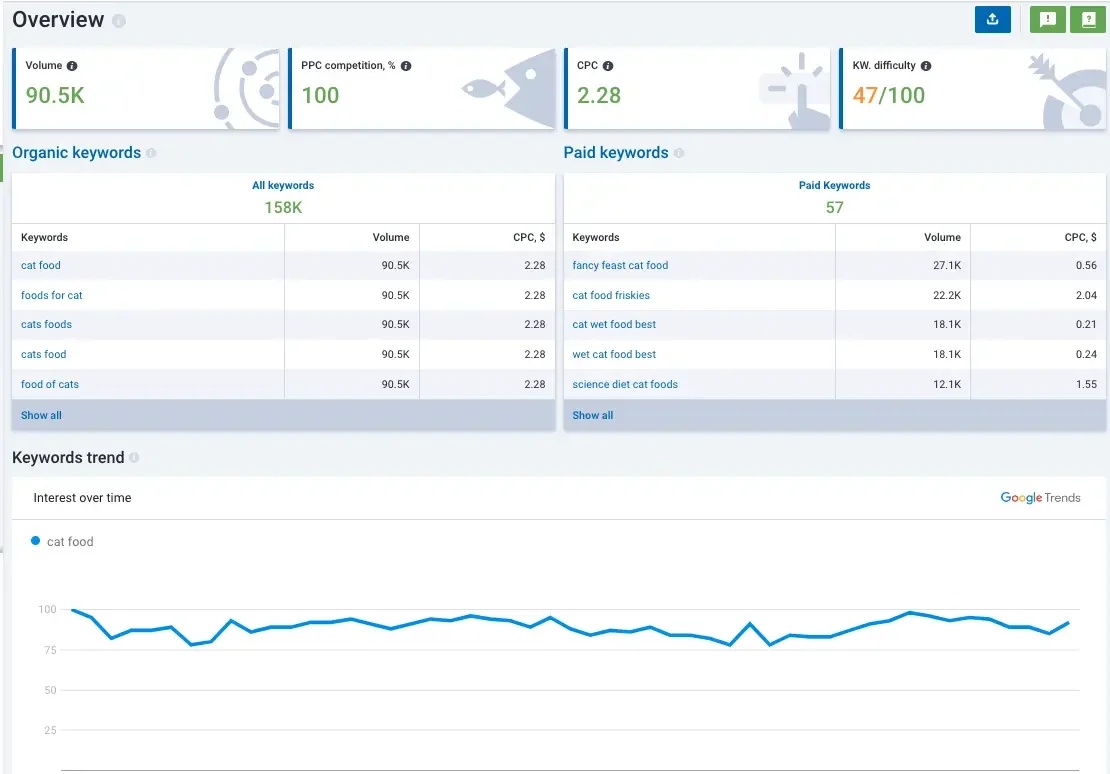 Keyword Research Tool
When it comes to optimizing your website for search engines, keyword research is the foundation. It's the process of identifying the right words and phrases your target audience uses when looking for products, services, or information on search engines. Serpstat's Keyword Research Tool is designed to make this process seamless and efficient.
With Serpstat, you can:
Analyze a Massive Volume of Keywords: In just a few clicks, delve deep into a vast database of keywords. This allows you to understand which terms are most relevant to your website and audience.
Competitor Keyword Analysis: Why reinvent the wheel? With Serpstat, you can easily collect and analyze the keywords that are driving success for your competitors. This gives you a clear roadmap of the terms you should be targeting.
Comprehensive Keyword Metrics: Get detailed insights for each keyword, including monthly search volume, keyword difficulty, and other essential metrics. This data ensures you're focusing on keywords that can drive traffic and conversions.
Extensive Keyword Database: Serpstat boasts a vast database of over 7 billion keywords and keyword suggestions specifically for Google. This ensures you're never short of keyword ideas and can always find terms relevant to your audience.
Drive Targeted Traffic: The ultimate goal of keyword research is to attract the right audience to your site. With the data obtained from Serpstat, you can tailor your content to ensure your audience finds you when they search.
All-in-One Solution: There's no need to juggle multiple tools and platforms. Serpstat offers a comprehensive suite of tools, from niche research tools to an SEO site analyzer. This means you get all the data and insights you need in one place.
Discover Related Keywords: Expand your keyword strategy by finding related terms and search phrases that are often used alongside your primary keywords. This helps in capturing a broader audience and addressing various user intents.
Competitive Analysis: Not only can you research keywords, but you can also analyze the competition for any topic in both paid and organic search. This gives you a clear picture of the competitive landscape and where you can find opportunities.
In conclusion, Serpstat's Keyword Research Tool is a powerhouse, designed to give you a competitive edge in the digital landscape.
Whether you're just starting with SEO or are an experienced professional, this tool offers everything you need to craft a winning keyword strategy.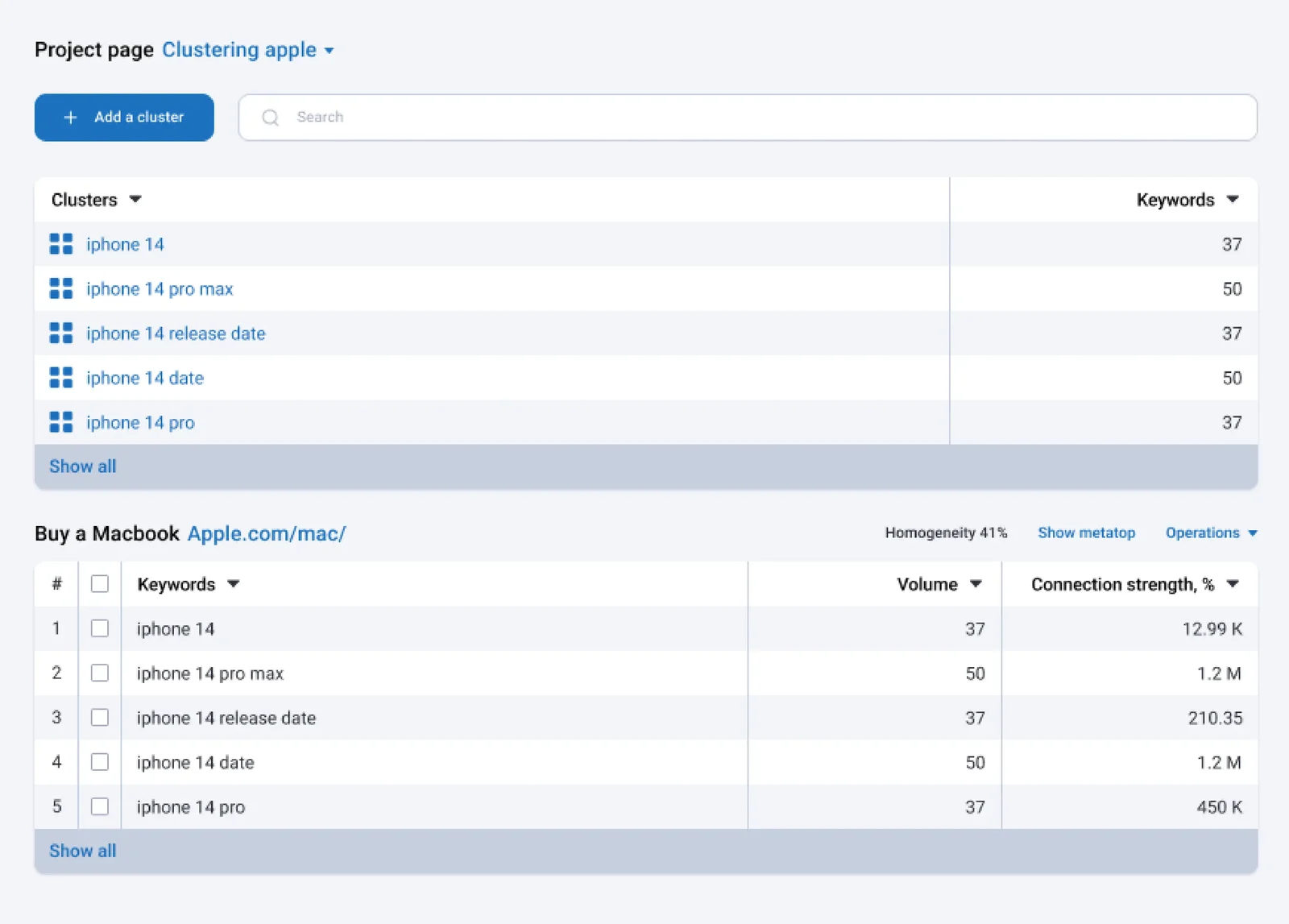 Keyword Clustering Tool
In the realm of SEO, keyword clustering is an advanced strategy that involves grouping related keywords together.
This approach not only streamlines content creation but also enhances the site's structure, making it more user-friendly and search engine optimized.
Serpstat's Keyword Clustering Tool is designed to simplify and automate this process, ensuring that your website is optimized for both users and search engines.
Here's what the Keyword Clustering Tool offers:
Bulk Keyword Upload: Say goodbye to manual keyword entry. With Serpstat, you can upload up to 50,000 keywords at once. The tool then automatically groups these keywords based on SERP similarity, ensuring that related terms are clustered together.
Enhance SEO with Related Keywords: By adding related keywords to specific website pages, you can significantly improve your site's rankings. This approach ensures that each page is optimized for a set of closely related terms, enhancing its relevance and authority.
Customizable Clustering Parameters: Serpstat offers a range of customization options to ensure that your keyword clusters are tailored to your specific needs:
Domain Recommendations: By adding your domain name, the tool provides recommendations on which page a particular keyword cluster would be most effective.
Connection Strength: This parameter allows you to group keywords based on closely related themes, ensuring that each cluster is highly relevant.
Type of Cluster: You can choose to group keywords based on matching URLs in the top 30 search results. This ensures that your clusters are aligned with current search trends.
Versatile Settings: By combining different settings, you ensure that your website is filled with powerful keyword combinations, leaving no stone unturned.
Export-Ready Keyword Clusters: Once your keywords are clustered, the tool provides a detailed breakdown. You'll receive a list of created clusters and the specific keywords included in each group. This detailed view allows you to:


Compare keyword volume and connection strength.
Manually add, delete, or move keywords between clusters.
Export results for further analysis or content creation.
In essence, Serpstat's Keyword Clustering Tool is a game-changer for SEO professionals.
It automates a complex process, ensuring that your website is structured optimally, with each page targeting a set number of keywords or closely related keywords.
Whether you're revamping your site's structure or planning a new content strategy, this tool is a must-have in your SEO arsenal.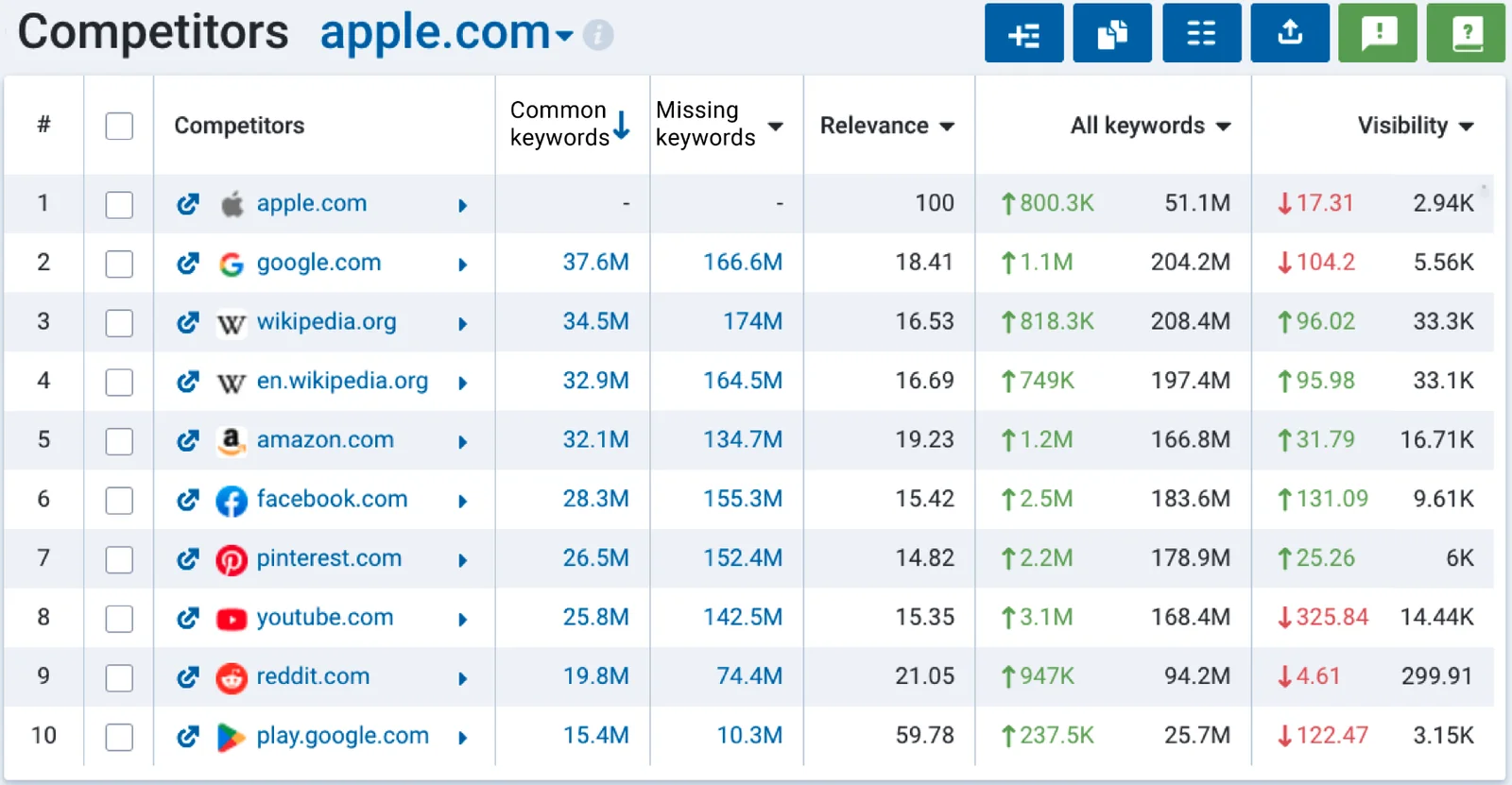 Competitor Analysis Tools
In the ever-evolving digital landscape, understanding your competition is crucial.
It's not just about knowing who they are, but diving deep into their strategies, strengths, and weaknesses.
Serpstat's Competitor Analysis Tools are designed to provide a comprehensive view of your competitors, allowing you to make informed decisions and stay ahead of the curve.
Deep SEO Competitor Analysis
Serpstat offers a holistic approach to competitor analysis in SEO:
Traffic Source Insights: Discover where your competitors are getting their traffic from and leverage these sources for your growth.
Competitive Keyword Analysis: Get a detailed view of all the keywords your competitors rank for in organic search. This insight can help you identify gaps in your own strategy.
Growth Dynamics: Track how your competitors are growing over time. By understanding their trajectory, you can find inspiration and strategies that might work for you.
Domain Comparison: Compare your domain against competitors to identify ranking gaps and opportunities.
Top-Ranking Page Analysis: Understand which pages of your competitors are ranking the highest and delve into what makes them successful.
Top Organic Competitors by Keyword
With Serpstat, you can:
Keyword-Based Competitor Analysis: Analyze competitors for specific keywords and compare key metrics on a single page. This includes Domain Rank, Domain Visibility, number of organic keywords, backlinks, external links, and more, all with links to detailed reports.
Comprehensive Backlink Analysis
Backlinks play a pivotal role in SEO. With Serpstat's tools, you can:
Analyze Backlink Profiles: Dive deep into your competitors' backlink strategies. Understand where they're getting their links from and use this data to craft your own link-building strategy.
Key Domain Metrics: Get a snapshot of crucial domain metrics such as referring domains, SDR (Serpstat Domain Authority Rank), anchor texts, external domains, and top pages.
Traffic-Driving Pages: Analyze which pages on competitor websites are driving the most traffic. This can provide insights into content strategies that work.
Competitor Traffic Analysis: With Serpstat, you can analyze competitor traffic, identify their top pages, and get insights into their keywords and SEO metrics.
Track Competitor Keyword Positions
Stay ahead of the game by:
Monitoring Keyword Positions: Use Serpstat's keyword tracking tool to monitor how competitors rank for selected keywords.
Efficient Rank Tracking: Add competitor domains to your Rank Tracker project. This allows you to track their positions without incurring extra costs.
In conclusion, Serpstat's Competitor Analysis Tools are a treasure trove of insights into search visibility.
Whether you're looking to refine your SEO strategy, understand competitor backlink profiles, or simply stay updated on competitor rankings, Serpstat has got you covered.
Armed with this data, you can craft strategies that not only compete but outshine the competition.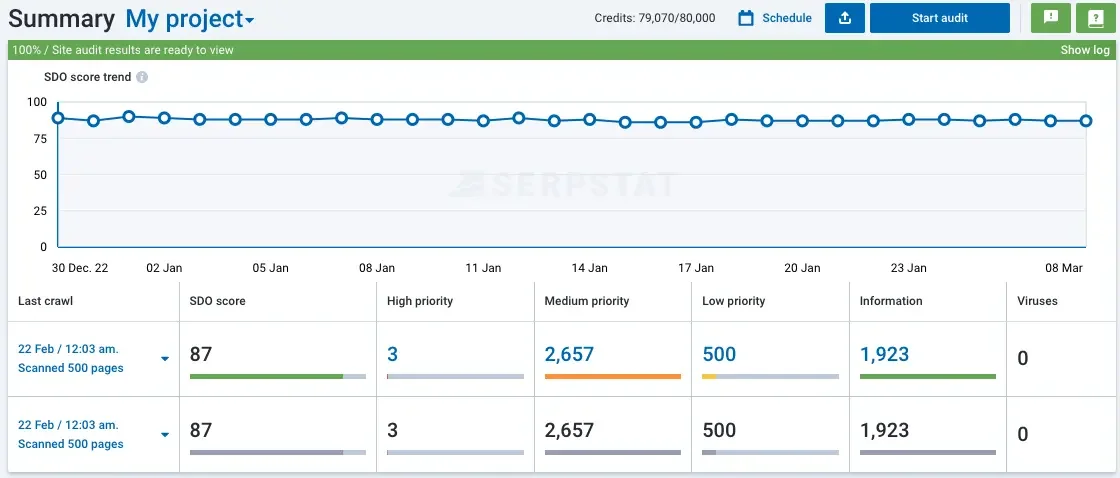 Site Audit
In the world of SEO, ensuring that your website is technically sound is paramount.
Even the best content can falter if underlying technical issues hold it back.
Serpstat's Site Audit feature is designed to provide a comprehensive analysis of your website, identifying and helping to rectify any technical SEO issues that might be hampering your performance.
Comprehensive Technical SEO Audit
With Serpstat's online SEO audit tool, you can:
One-Click Analysis: Perform a thorough SEO analysis of your website, scanning for any technical issues that might be affecting your rankings.
Categorized Issues: The tool categorizes all identified issues based on their priority: high, medium, or low. This allows you to address the most critical issues first, ensuring maximum impact.
Domain Optimization Score: Get a clear understanding of your site's optimization level with the Domain Optimization Score. This score is calculated based on a set of criteria, giving you a snapshot of your site's health.
Track Optimization Dynamics: Monitor the progress of your site's optimization over time. This helps you gauge the effectiveness of your efforts and make necessary adjustments.
Page Speed Recommendations: Slow-loading pages can be detrimental to user experience and SEO. Serpstat provides recommendations to speed up your site pages for both desktop and mobile devices.
Scheduled SEO Audit Reports
Stay on top of your site's health with scheduled reports:
Exportable Audit Summaries: Export the Audit Summary report to get a detailed breakdown of issues across all pages in a single file.
Automated Crawling: Schedule your SEO audits – be it weekly, daily, or manually. Serpstat will automatically crawl your website, ensuring that you're always updated on its health. Once the audit is complete, you'll receive a notification in your inbox.
Online Report Monitoring: Check your SEO audit report online. This allows you to monitor the number of identified issues and ensure that they're decreasing over time.
In essence, Serpstat's Site Audit tool is an invaluable asset for any website owner or SEO professional.
It provides a detailed, actionable breakdown of technical issues, ensuring that your site is always optimized for search engines.
With regular audits and the insights provided, you can ensure that your website remains in peak condition, ready to rank high and attract visitors.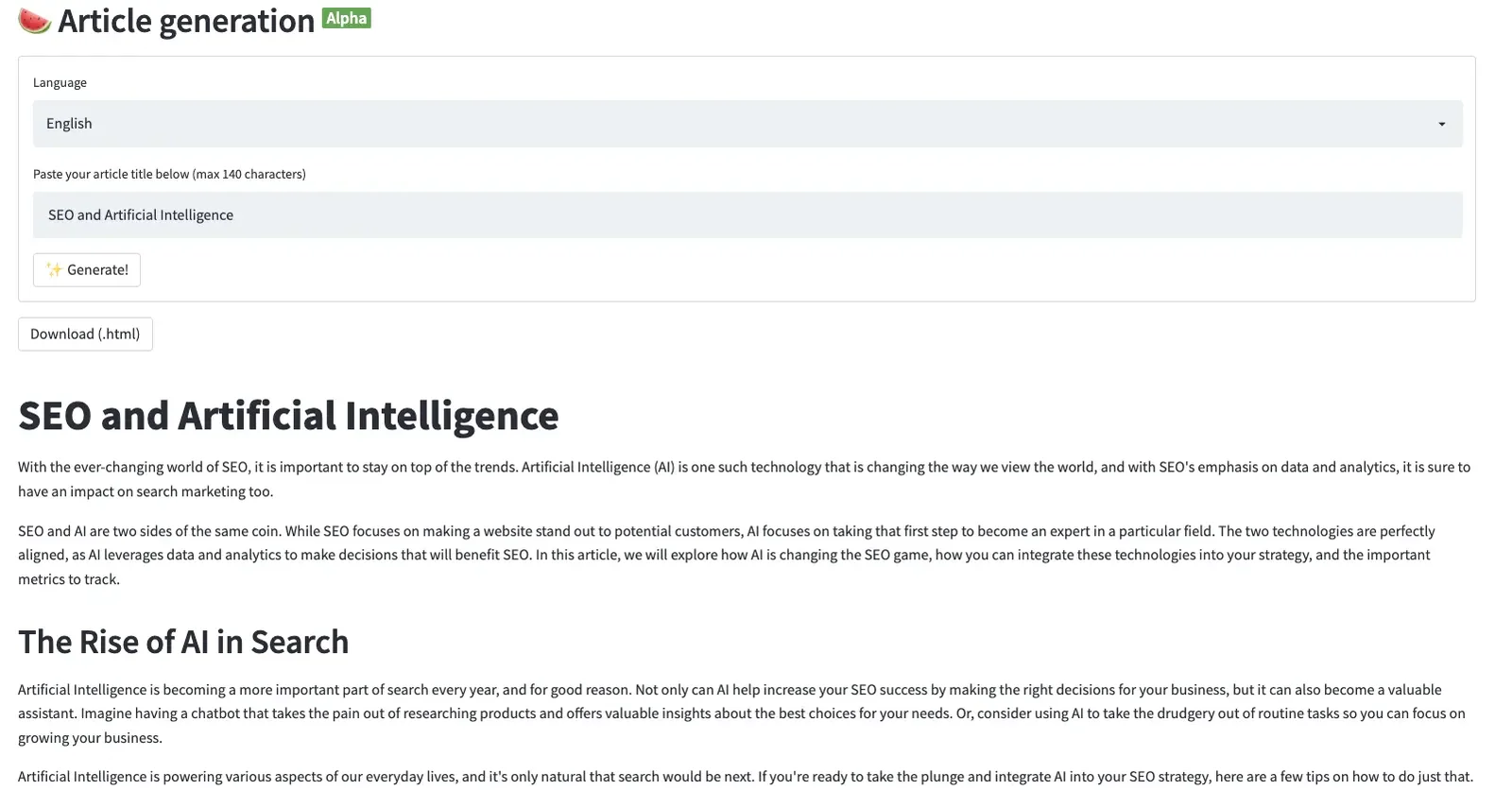 AI Content Generation Tools
In today's fast-paced digital world, content remains king.
However, the process of content creation, from ideation to publication, can be time-consuming.
Enter the Serpstat AI Content Generation Tools– a suite of tools powered by Artificial Intelligence and Machine Learning designed to streamline and enhance the content creation process.
The Power of AI in Content Creation
With AI content analysis, several aspects of content creation are accelerated:
Meta Tag & Article Generation: Create meta tags and full-fledged articles with ease. Just input a topic or a sentence, and the AI tool will generate relevant content in seconds.
Grammar & Spelling Checks: Say goodbye to manual proofreading. The AI tool scans your content for grammatical and spelling errors, ensuring that your content is polished and professional.
Competitor Text Insights: Extract valuable insights from competitor texts, allowing you to craft content that stands out.
Who Benefits from AI Content Tools?
These tools are designed to cater to a wide range of professionals:
Writers & Editors: Streamline the writing process, from ideation to proofreading.
Content Marketers & SMM-Managers: Create engaging content that resonates with your target audience.
PR-Specialists & SEO or PPC Specialists: Ensure that your content is optimized for search engines and appeals to your audience.
Marketing Agencies & Businesses: Whether you're a small business or a large enterprise, AI content tools can elevate your content strategy.
Key Features:
Article Generation: Transform a single sentence into a comprehensive article. Use the Keyword Trends tool on Serpstat to identify popular topics with low competition and generate content that resonates with your audience.
Description Generation: Craft compelling descriptions that tell search engines what your page is about. The AI tool analyzes text fragments and crafts descriptions based on search engine requirements and competitor analysis.
Title Generation: Titles play a pivotal role in attracting readers. Generate captivating titles based on short text snippets to ensure maximum engagement.
Grammar & Spelling Check: Ensure your content is error-free. From website content to PPC campaigns, ensure every piece of text is grammatically correct, enhancing user experience.
Paraphrasing Tool: Avoid plagiarism and duplicate content. The tool rewrites content in seconds, ensuring uniqueness while retaining the original meaning. Ideal for product descriptions and content repurposing.
In conclusion, AI Content Generation Tools are revolutionizing the content creation process.
By leveraging the power of AI and Machine Learning, content creators can produce high-quality, unique, and engaging content with ease, ensuring that they stay ahead of the curve in the competitive digital landscape.
Whether you're a writer, marketer, or business owner, these tools are a game-changer.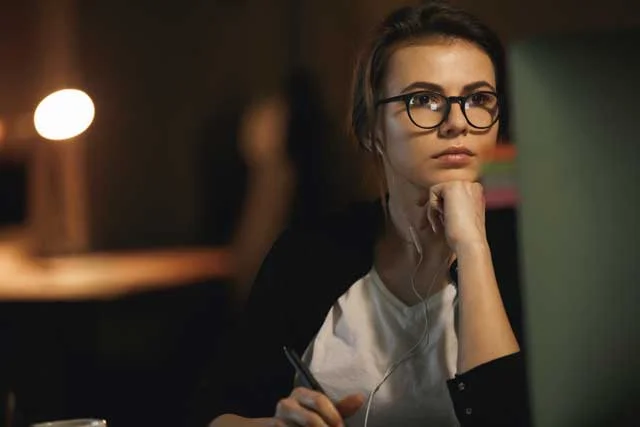 Serpstat Pricing Plans
(all prices monthly based on 12-month payment)
Individual ($50)
Best for SEO-individuals and freelancers.
Includes 100 searches per day, 5 projects, 1 team member
Team ($100)
Best for small in-house teams. Same features of Individual plan plus includes 500 searches per day, 25 projects, 3 Team members. Additionally includes AI Tools, Batch Analysis, Branded Reports, Team Management, API Access.
Agency ($410)
Best value for big marketing agencies. Includes 5000 searches per day, 250 projects, 30 team members. Additionally includes AI Tools, Batch Analysis, Branded Reports, Team Management, API Access. All the features of Team but bigger!
Is Serpstat User-Friendly?
Absolutely! Serpstat's dashboard is intuitive, making it user-friendly even for those new to SEO. Whether you're an SEO agency, a digital marketer, or a website owner, navigating through the Serpstat dashboard's plethora of features is a breeze.
Value for Money
When it comes to pricing, Serpstat is competitively priced compared to another SEO tool in the market. With its range of features, from basic to advanced, it offers value for every penny spent.
Whether you're looking for basic features or a more comprehensive data analysis, the Serpstat pricing also has a pricing plan tailored for you.
Customer Support
Serpstat support is commendable. Whether you have a technical query or need assistance with keyword research, their team is always ready to assist. With helpful reviews and tutorials available, you're never left in the dark.
Final Thoughts
In the vast sea of SEO, Serpstat stands out as a solid SEO tool. With its comprehensive data analysis, user-friendly interface, and competitive pricing, it's a must-have for anyone serious about search engine optimization.
Serpstat FAQ
What is Serpstat used for?
Serpstat is a comprehensive SEO software suite used for keyword research, website analysis, site audit, backlink analysis, rank tracking, and competitive analysis.
Is Serpstat free?
While Serpstat offers a free version with limited features, to unlock all the features, one would need to opt for one of their paid plans.
Is SE Ranking better than Serpstat?
Both tools have their strengths. While SE Ranking offers specific features tailored for certain users, Serpstat is known for its comprehensive ranking data and user-friendly interface.
Who is the owner of Serpstat?
Serpstat was founded by Oleg Salamaha and is owned by Netpeak Software.
What is Serpstat best for?
Serpstat is best known for its extensive keyword research, detailed domain analysis, site audit reports, and comprehensive backlink analysis.
How does Serpstat work?
Serpstat works by crawling the web, analyzing data, and providing users with actionable insights to improve their website's SEO.
How do you analyze SEO keywords?
With tools like Serpstat, you can input a keyword to get data on search volume, keyword difficulty, related keywords, and more.
How do you rank in SERP?
Ranking in SERP requires a combination of high-quality content, strong backlinks, technical SEO, and consistent efforts in content marketing and SEO strategies.
What is a SERP analysis?
A SERP analysis involves examining the top-ranking web pages used for a particular keyword to understand what content is ranking and why.