In an age where videos dominate social media and digital marketing, having the right video editing skills can make all the difference.
Whether you're a student, teacher, or business professional, WeVideo is a powerhouse that caters to everyone's editing needs.
So, are you ready to elevate your video editing game?
This blog post will guide you through everything you need to know about WeVideo, from setting up an account to its advanced search and editing capabilities, as well as providing insightful WeVideo reviews.
Key Takeaways
Introducing WeVideo - a powerful video editing software
Setting up your account and understanding the user interface
Comprehensive stock media library, templates, collaboration tools & more to create captivating videos
Quick Review: WeVideo
Rating: ⭐⭐⭐⭐.5
WeVideo comes highly recommended for its robust and user-friendly video editing capabilities. Here's why:
Who it's for: Ideal for students, teachers, and business professionals looking to create engaging and professional video content.
Main strengths:


Comprehensive stock media library and music options, providing a variety of resources for your video projects.
Intuitive user interface that simplifies the video editing process.
Versatile editing capabilities, from basic trimming to advanced animation and color adjustment.
Excellent collaboration tools that promote project-based learning and teamwork.
Compatibility with various platforms, allowing users to import media from sites like Google Drive.

Rating justification: While it does have a few limitations, such as restricted advanced editing options on its free plan, the overall benefits and features of WeVideo far outweigh these minor drawbacks.
In conclusion, WeVideo is a powerhouse of video editing software that caters to a wide range of users, making it a top choice for creating captivating video content.
Get WeVideo Today!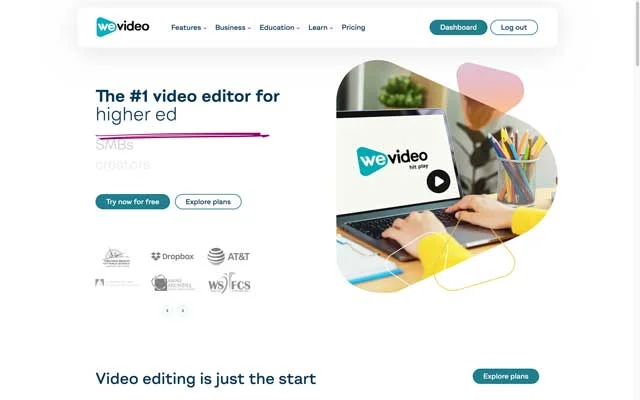 Introducing WeVideo - A Video Editing Powerhouse
Designed for both novices and professionals, WeVideo is a versatile video editing software that simplifies the editing process.
It allows users to create and edit videos with ease, making it a popular choice for businesses, schools, and individuals looking to create engaging content for YouTube and other platforms.
Its intuitive interface encourages collaborative work on video projects between students and teachers, promoting project-based learning in the classroom.
Imagine the excitement of students as they bring their ideas to life, showcasing their creativity and storytelling skills through fun and engaging video projects and assignments.
Not limited to video editing, WeVideo also supports audio editing and media file import from websites such as Google Drive, enabling the creation of professional-grade videos.
With WeVideo, the possibilities are endless – from creating video slideshows for a company event to crafting an eye-catching YouTube video that attracts thousands of viewers.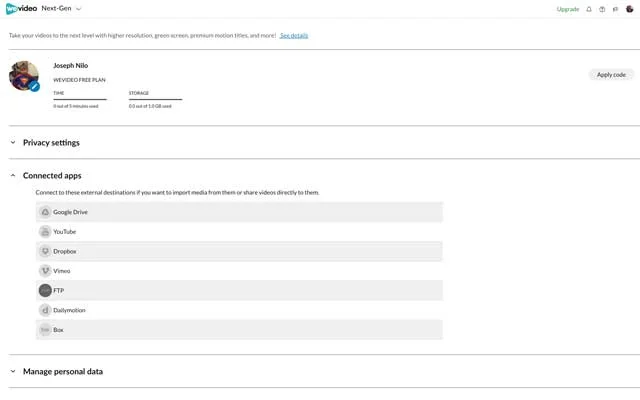 Setting Up Your WeVideo Account
Creating a WeVideo account is straightforward.
Simply visit their website, choose a subscription plan, and import media from other websites to get started with your video editing projects.
To enhance the learning experience, WeVideo Academy offers tutorials and project ideas for students, helping them polish their video editing skills and reduce their publish time.
Instructors can guide students through the process of importing stock media, such as video clips, sound effects, still images and music, before demonstrating basic editing techniques like splitting and trimming clips.
This hands-on approach not only fosters a supportive learning environment but also encourages students to experiment, share their discoveries, and help one another throughout the editing process.
WeVideo provides an array of resources, including tutorials and project ideas, making it easy for users to import media and create engaging video content.
Whether you're a teacher looking for new and fun ways to engage your students in project-based learning or a student seeking to impress your friends and family with your newfound editing skills, WeVideo has got you covered.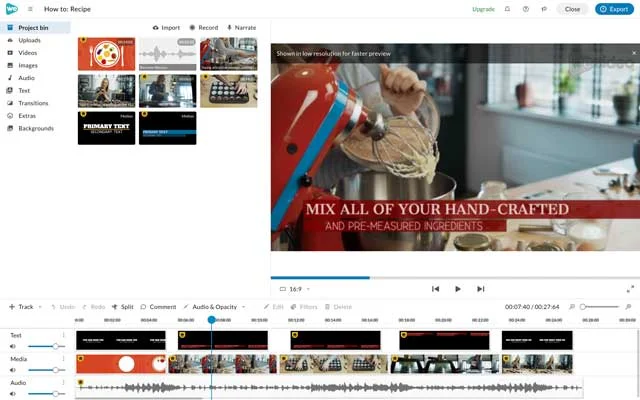 Understanding WeVideo's User Interface
The user-friendly design of WeVideo's interface allows users to concentrate on their creative journey, eliminating the struggle with complex software. Its features include:
Timeline editing mode: provides a clear and organized space for users to drag and drop media, add music and sound, transitions, and more
Screen recording: allows users to capture their screen and create tutorial videos or demonstrations
Green screen effects: enables users to replace the background of their videos with any image or video
This intuitive interface, combined with these features, makes WeVideo the ideal choice for anyone looking to edit and create captivating videos with ease.
Layering, particularly significant for project-based learning, is another key feature of WeVideo's user interface.
Proper layering ensures that all elements in the video work together harmoniously, resulting in a polished final product that students and teachers can be proud of.
Timeline and Storyboard Modes in WeVideo
Users can choose between two editing modes in WeVideo – timeline editor and storyboard.
Timeline editing mode is the primary editing mode where clips are arranged from left to right, playing out in the order they appear on the timeline. This mode provides users with more control over their video editing process, allowing for detailed adjustments and customization.
On the other hand, storyboard editing mode is an excellent starting point for beginners, offering ready-made themes and fewer editing options.
This mode simplifies the editing process, making it easy for users to create professional-looking videos with minimal effort.
Although tailored for beginners, more experienced users can also benefit from storyboard mode, for example, as it is an efficient way to create videos quickly.
A standout feature of WeVideo is the flexibility to toggle between editing modes, enabling users to select the optimal mode for their project at any given moment.
Having time-stamped timelines also ensures that users can easily track, upload and edit their videos, streamlining the editing process.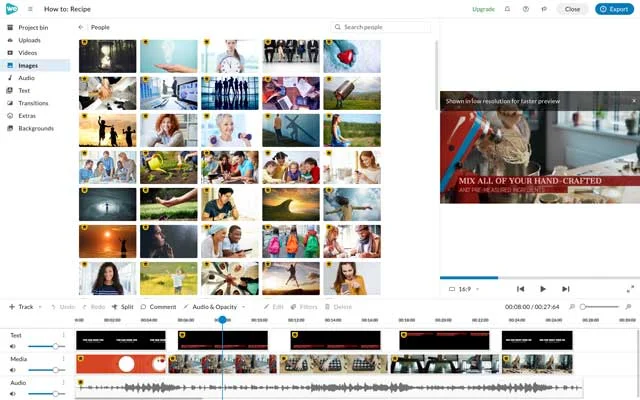 Analyzing WeVideo's Editing Capabilities
WeVideo boasts a wide range of editing capabilities, including:
Easy trimming
Cropping
Animating
Color adjustment
This range of editing tools provides users with the flexibility to create unique and captivating videos, tailored to their specific needs and preferences.
From rotating and flipping clips to adjusting the speed of a video clip, WeVideo's advanced editing features cater to users of all skill levels.
Not only does WeVideo offer precise editing tools for video clips, but it also enables users to animate still images, adjust the volume of audio clips, and change the transparency of images or video clips.
These capabilities give users the ability to create dynamic and engaging content, setting WeVideo apart from other video clip editing software.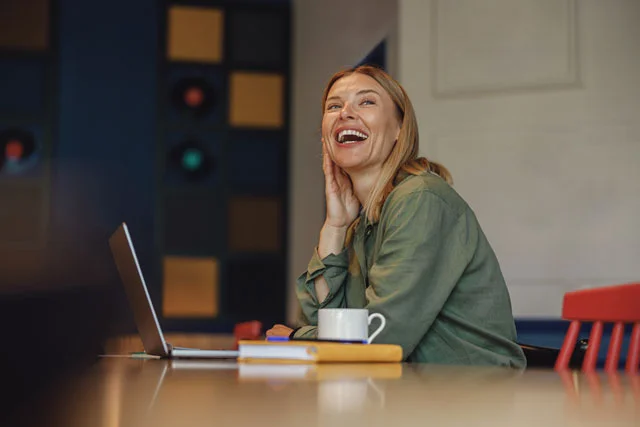 WeVideo's Stock Media Library and Music Options
The stock media library in WeVideo is packed with royalty-free images, video clips, and sound clips, offering users an abundance of media files to enrich their video projects.
Additionally, WeVideo offers various templates for users to choose from, including themes for holidays, celebrations, and business promotions, making it even easier to create professional and engaging videos.
WeVideo emphasizes collaboration, enhancing the learning experience by enabling students to work collaboratively and cooperate on projects.
Students can:
Import media from other platforms, such as Google Drive
Collaborate with their peers to create content, mimicking real-world scenarios
Access an extensive music and sound effects library through the Essentials stock media library or the audio library, giving users the ability to add the perfect soundtrack to their projects.
Creating GIFs in WeVideo can significantly boost your social media presence and add a unique touch to school projects and company presentations.
With WeVideo's extensive stock media library, music options, and user-friendly interface, users can create captivating content that stands out.
Recording and Green Screen Features in WeVideo
Distinctive features within WeVideo differentiate it from other video editing software, facilitating the creation of immersive presentations, tutorials, and beyond. These features include:
Screen recording: Users can capture their screens to create tutorials or demonstrations.
Webcam recording: Users can record themselves using their webcam to add a personal touch to their videos.
Green screen special effect: This feature allows users to replace a green background with a different image or video, creating a professional and polished look.
These features make WeVideo a versatile and powerful tool for video editing and content creation.
To create a green screen effect in WeVideo, users simply need to double-click to preview the clip and select the color keying icon.
This feature adds an extra layer of creativity to videos, making them more engaging and visually appealing.
WeVideo also offers resources such as the Green Screen for Business guide and green screen tips for the classroom, helping users make the most of this versatile feature.
Whether you're a business professional looking to create an attention-grabbing presentation or a teacher wanting to enhance your students' classroom learning experience, WeVideo's recording and green screen features offer endless possibilities for creating captivating content.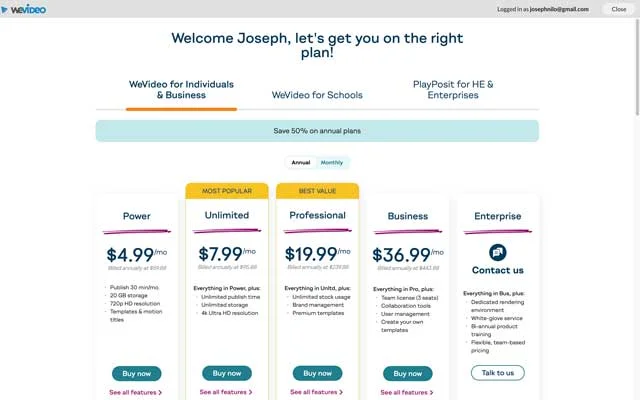 The Final Cut - Is WeVideo Worth It?
From its intuitive interface and comprehensive stock footage and audio libraries, to its sophisticated editing capabilities and compatibility with various platforms, WeVideo offers a wide range of features.
However, it is important to note that WeVideo does of course have some limitations, such as restricted advanced editing options and a less robust mobile app.
Despite these drawbacks, the overall benefits of WeVideo far outweigh its limitations.
WeVideo offers three subscription plans: Free, Plus, and Pro, catering to users with varying needs and budgets.
The Free plan provides basic editing features, while the Plus and Pro plans offer more advanced options, making WeVideo suitable for a wide range of users.
Considering the wealth of features and resources provided by WeVideo, its subscription plans are well worth the investment.
In sum, WeVideo is an exceptional video editing software, accommodating users of all skill levels and needs.
Its user-friendly interface, extensive editing capabilities, and collaborative features make it an invaluable tool for students, teachers, and professionals alike.
With WeVideo, the possibilities for creating captivating and engaging content are truly endless.
So why wait? Unleash your creativity and embark on your video editing journey with WeVideo today.
Frequently Asked Questions
Is WeVideo any good?
WeVideo has excellent features, intuitive interface, and is easy to use with students for projects and morning announcements. Many customers are satisfied with their purchases
How much does WeVideo cost per month?
WeVideo offers a free plan and premium plans starting from $4.99/month.
Is WeVideo completely free?
No, WeVideo isn't completely free - while you can use the free plan with limited features and export up to 5 minutes of 720p video per device per month with a watermark, if you want high-quality video exports without a watermark, you'll need to upgrade your plan.
Is WeVideo suitable for beginners?
Yes, WeVideo is perfect for beginners due to its user-friendly design and storyboard editing mode.
Can I collaborate with others on a video project using WeVideo?
Yes, you can collaborate with others on a video project using WeVideo as it allows students and teachers to watch and work together, providing an environment for project-based learning.