First things first:

Full disclosure: this page includes affiliate links. Though I don't recommend software I don't believe in. I pay for Adobe Creative Cloud and have used it every day in my 20-year career as a video editor, producer, and colorist.
Purchasing Adobe CC through these links will get you the best deal available and support this site.
Get Adobe Creative Cloud
Adobe Bridge is an integral part of the Adobe Creative Suite.
It's a powerful digital asset management solution that connects you with all your creative assets in a single workflow.
From Photoshop files to InDesign files and Adobe Stock video files, Adobe Bridge serves as your media manager for multiple formats and file types.
It provides instant access to your creative assets.
Adobe Bridge can handle multiple creative assets from various Adobe programs in your documents folder, making it a valuable tool for organizing assets.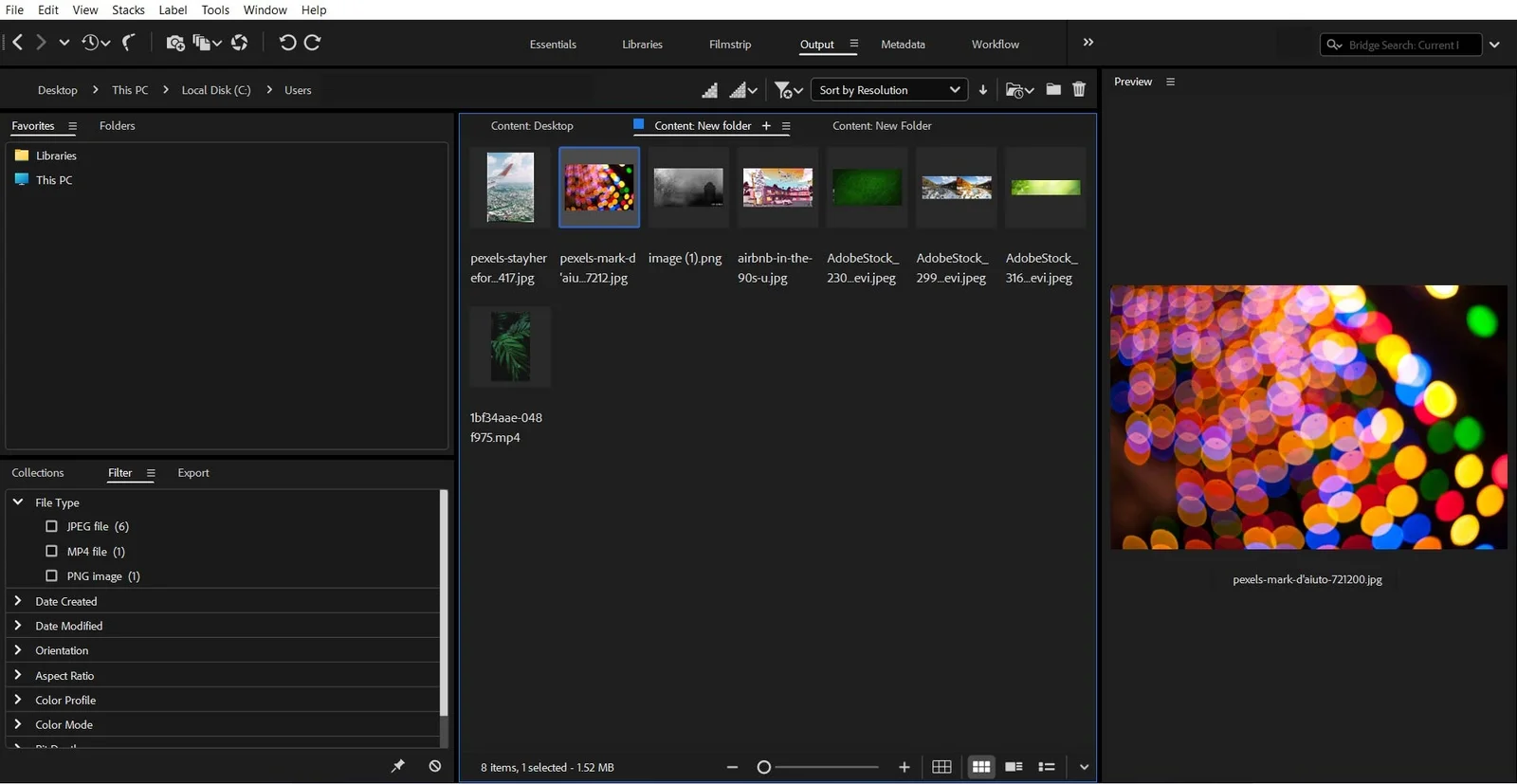 As a digital asset management solution, Adobe Bridge is not just a file browser; it allows you to edit image metadata, creating a streamlined workflow for your creative suite.
Bridge even allows for batch processing, helping you manage bulk workflows effectively.
Perhaps the most compelling feature of Adobe Bridge is its ability to manage and organize assets across multiple computers.
This feature is especially useful for teams working on large projects that require handling multiple images and media files.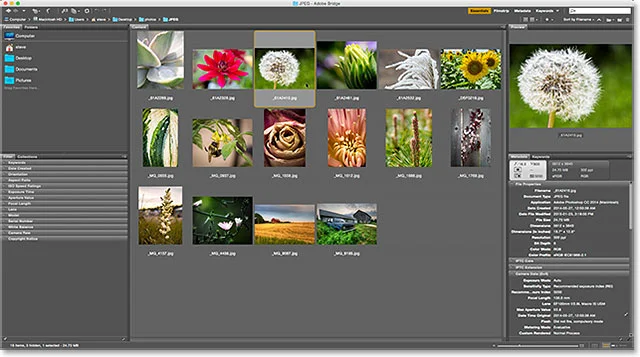 Adobe Bridge CC, the latest version of Bridge Adobe, comes with new features and improvements. Adobe Bridge CC provides more detail in file properties and for metadata editing, including the ability to edit images and video files directly.
One of the features of Adobe Bridge that sets it apart is its ability to create PDF contact sheets and professional looking portfolios using Adobe Portfolio.
These features, along with its ability to handle multiple image formats, make Adobe Bridge an essential tool for photographers and designers.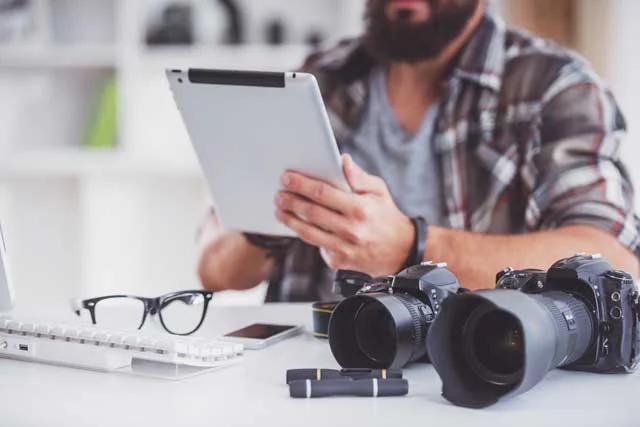 Adobe Bridge and Adobe Photoshop
Adobe Bridge and Photoshop are both part of the Creative Suite, but they serve different purposes.
While Photoshop is a software used for editing digital photos and creating graphics, Adobe Bridge is an asset management solution that provides a seamless way to organize and manage all your creative assets.
Adobe Bridge allows you to access and manage your Adobe Photoshop files, among other files, in a way that saves space and time.
It also allows you to edit image metadata and perform batch rename tasks, making it a valuable companion to Photoshop.
It's not a competition but a collaboration.
Adobe Bridge and Adobe Photoshop work hand-in-hand to streamline your creative process. You can use Bridge to organize, image preview, and even batch edit metadata before opening them in Photoshop for more detail-oriented editing.
Through Bridge, Adobe Camera Raw is accesible directly, allowing you to process raw images and take your digital photos to the next level. Adobe Bridge isn't the same as Photoshop, but it complements it, enhancing your workflow and productivity.
Adobe Bridge and Adobe Creative Cloud
Adobe Bridge is included in the Adobe Creative Cloud subscription.
This means you can download Adobe Bridge as part of your paid subscription to Creative Cloud.
However, Adobe Bridge is also available for free, making it accessible even if you don't have a Creative Cloud subscription.
Adobe Bridge seamlessly integrates with other Adobe Creative Cloud Libraries, enabling you to manage your digital assets across various Adobe programs.
Whether you're using Photoshop, InDesign, or any other program within the Creative Cloud, Adobe Bridge provides an effective solution for managing your digital assets.
Adobe Bridge: Free or Paid?
Adobe Bridge is available both as a free standalone software and as part of the Adobe Creative Cloud.
You can download Adobe Bridge for free, but having a Creative Cloud subscription allows for a more integrated experience with other Adobe programs.
Despite this, you can still get Bridge without Creative Cloud, but some features may be limited.
Conclusion
Bridge serves as a versatile and integral part of Adobe's suite of creative tools.
It excels as a digital asset management application, offering efficient ways to organize, browse, and locate the files you need for your creative projects.
While it's not a replacement for dedicated photo editing tools like Lightroom or Photoshop, it provides essential support for these applications, handling tasks such as batch renaming and the processing of RAW files.
Whether you're a photographer, designer, or video producer, mastering Bridge can significantly streamline your workflow and enhance your creative process.
Bridge FAQs
Is Adobe Bridge Free to Use?
Yes, Bridge is free to use. You can download and install Bridge for free, even without a subscription. However, having a CC subscription provides a more integrated experience.
Is Adobe Bridge Still Being Used?
Yes, Bridge is still being used by many creatives. It's a valuable tool for managing and organizing creative assets, particularly for those who work with multiple Adobe programs.
What is the Difference Between Adobe Lightroom and Adobe Bridge?
Adobe Lightroom is a photo editing and management software, while Bridge is an asset management solution. Bridge offers more flexibility in terms of managing various file types across different Adobe programs.
Can You Download Adobe Bridge for Free?
Yes, you can download Bridge for free from the Adobe website.
What is Adobe Bridge vs Photoshop?
Bridge and Photoshop are two different software that serve different purposes. While Photoshop is primarily used for editing and creating images, Bridge is used for organizing, browsing, and managing your digital assets.
Is Adobe Bridge still being used?
Absolutely. Bridge is still widely used as an asset management solution. It's a crucial part of the Adobe Creative Suite, helping professionals manage their creative assets efficiently.
What is the difference between Adobe Lightroom and Adobe Bridge?
While both Adobe Lightroom and Bridge are digital asset management tools, they serve different functions. Lightroom is primarily a photo editing and organizing tool with advanced editing options, while Bridge is a more comprehensive asset management tool.
What is Adobe Bridge used for?
Bridge is a digital asset management app developed by Adobe Systems. It's designed to link parts of the Creative Suite together using a format similar to the file browser found in previous versions of Adobe Photoshop. Bridge is primarily used for organizing, browsing, and locating the assets you need to create content for print, web, and video.
How do I download Adobe Bridge?
You can download Bridge from the Adobe website or through the Adobe Creative Cloud app. After logging in with your Adobe account, you can download and install the application. Be sure to check that your system meets the necessary requirements for the software.
Can Adobe Bridge replace Lightroom?
While Bridge and Lightroom share some similarities, they are not direct replacements for each other. Lightroom has a more comprehensive set of features for photo editing and is typically used by photographers for various tasks, such as raw processing, while Bridge is more focused on asset management.
Is Adobe Bridge free?
Bridge is free to download and use, even if you do not subscribe to Adobe Creative Cloud.
What are the system requirements for Adobe Bridge?
System requirements for Bridge can vary depending on the version. For the most accurate information, you should check Adobe's official website or documentation for the specific version you're interested in.
How do I organize files in Adobe Bridge?
Bridge offers several ways to organize your files. You can use ratings, labels, and keywords to sort and categorize your assets. Bridge also allows you to create collections, which are essentially virtual groupings of files that can span various folders and drives.
Can I edit photos in Adobe Bridge?
Bridge is not a photo editing tool in itself. However, it integrates closely with Adobe Camera Raw, Photoshop, and Lightroom, which are tools designed for photo editing. You can open your images directly in these applications from Bridge.
Does Adobe Bridge support RAW files?
Yes, Bridge supports RAW files. In fact, it works closely with Adobe Camera Raw to handle and process these files.
Can I batch rename files in Adobe Bridge?
Yes, Bridge has a batch renaming feature that allows you to rename multiple files at once. This can be especially useful when dealing with large collections of assets.
How do I create collections in Adobe Bridge?
Collections in Bridge are a way to group together files for easy access, regardless of where they are stored on your hard drive. To create a collection, you simply go to the "Collections" panel, click on the "New Collection" button, give it a name, and then drag and drop the files you want to include in the collection.