Introduction to Adobe Premiere Pro
Adobe Premiere Pro is a powerful video editing program used by professionals and hobbyists alike.
It's part of the Adobe Creative Cloud suite, making it an essential tool for multimedia designers and video editors who want to produce high-quality content.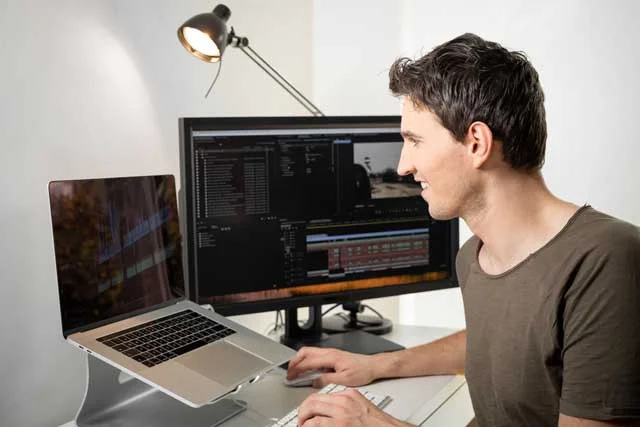 Table of Contents
A Brief History of Premiere Pro
The first version of Premiere Pro, known as Premiere Pro CS, was released in 2003. Since then, it has undergone numerous updates and improvements, making it the go-to video editing software for many professionals.
The latest version of Premiere Pro is known as Premiere Pro CC, which stands for Creative Cloud.
Compatibility and System Requirements
Adobe Premiere Pro is compatible with both Windows systems and Mac OS.
The software has specific system requirements that users need to meet, ensuring that their computers can handle the program's powerful tools and features.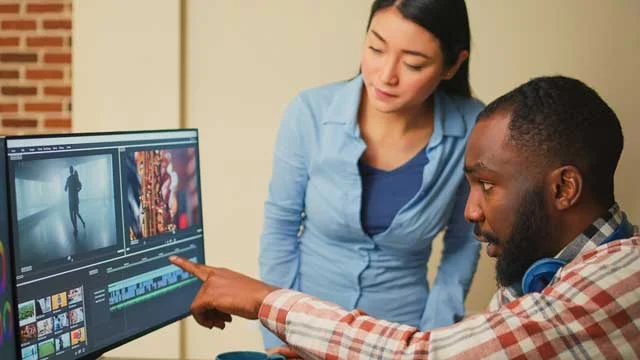 Common Video Editing Tasks
Adobe Premiere Pro is designed to handle a wide range of common video editing tasks, such as trimming video clips, applying transitions and effects, and adjusting audio levels.
Users can also create more complex edits and edit videos using the program's advanced tools, like motion graphics and color correction.
Producing Broadcast-Quality Videos
One of the main advantages of using Adobe Premiere Pro is its ability to produce broadcast-quality videos.
Professionals in industries such as film, television, and marketing rely on the software to edit high-definition video and audio tools create visually stunning content that meets industry standards.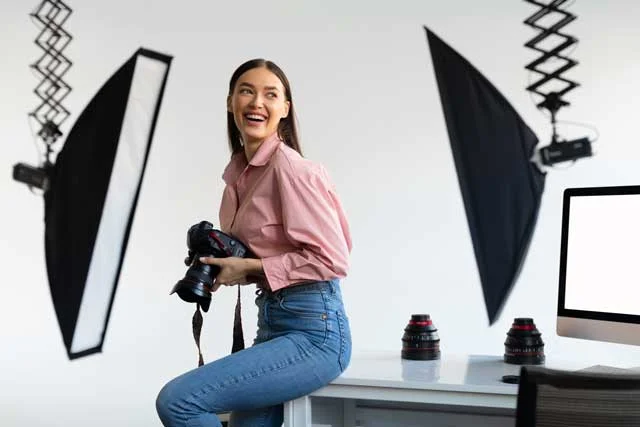 Integration with Other Adobe Programs
Adobe Premiere Pro is designed to work seamlessly with other Adobe programs, such as Adobe Audition for audio editing and Adobe After Effects for motion graphics.
Users can also import video and still images from Adobe Photoshop, enhancing their video projects with high-quality visuals.
Getting Started with Premiere Pro
To start using Adobe Premiere Pro, users first need to import video files or capture footage using a compatible device.
They can then organize their video clips and audio tracks on the timeline, applying edits and adjustments to edit videos as needed.
Interested in my opinion of Final Cut Pro vs. Premiere Pro?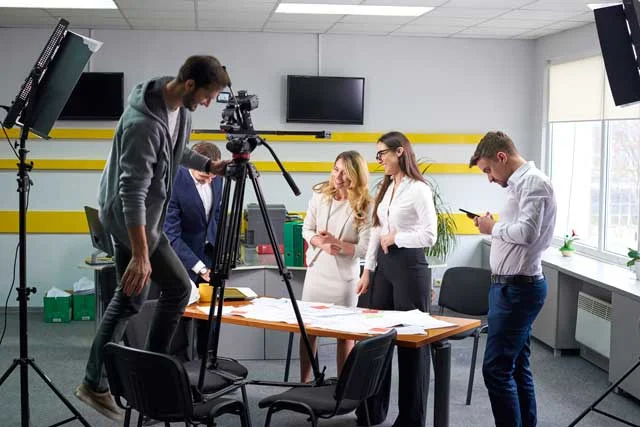 Essential Features of Adobe Premiere Pro
Timeline-Based Editing
Premiere Pro's timeline-based editing interface allows video editors to organize and manage their video clips, audio tracks, and other media elements efficiently. Users can arrange video clips in layers, trim and extend clips, and adjust the timing of cuts and transitions to create a seamless and polished final product.
Color Grading and Correction
Adobe Premiere Pro offers a comprehensive set of color grading and correction tools. The Lumetri Color panel provides control over color balance, exposure, contrast, and saturation.
The software also includes advanced color grading tools, such as curves and color wheels, to achieve precise and professional results.
Motion Graphics and Titles
Premiere Pro integrates with Adobe After Effects, allowing users to create and edit motion graphics and titles directly within the software. Editors can import pre-made motion graphics templates or create custom animations and effects for their video projects. This integration streamlines the process of adding graphics, audio effects and text overlays to videos.
Audio Editing and Mixing
Adobe Premiere Pro includes audio editing tools, such as the Essential Sound panel, which simplifies audio mixing and enhancement. The software also integrates with Adobe Audition, providing more advanced audio editing capabilities for users who require further precision and control over their audio tracks.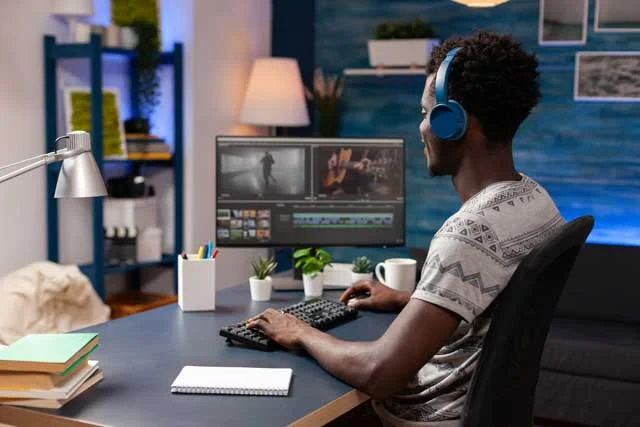 The Evolution of Adobe Premiere Pro
Adobe Premiere Pro has undergone significant updates and improvements since its initial release. Each new version of Premiere Pro introduces additional features and enhancements to provide video editors with cutting-edge tools and streamlined workflows.
Transition from Premiere Pro CS to Premiere Pro CC
Adobe transitioned from the Creative Suite (CS) to the Creative Cloud (CC) in 2013. This change brought about regular updates to Adobe Premiere Pro, offering subscribers access to the latest features and improvements. With the Creative Cloud model, users can also collaborate more effectively and access their projects from anywhere with an internet connection.
High Definition and 4K Video Support
As video resolutions have increased, Adobe Premiere Pro has evolved to support editing high definition and 4K video. The software allows users to work with high-resolution footage, ensuring their projects meet the latest quality standards.
Virtual Reality and 360-Degree Video Editing
Adobe Premiere Pro has embraced the growing trend of virtual reality (VR) and 360-degree video content, providing tools specifically designed for editing immersive video experiences. This support ensures that video editors can stay ahead of the curve and create engaging content for emerging platforms.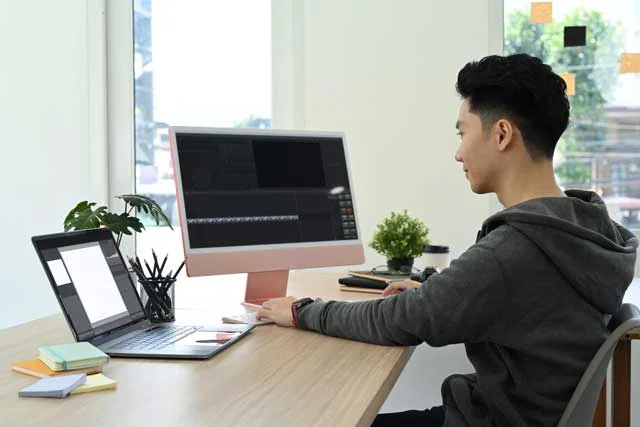 Collaborating with Adobe Creative Cloud
The Adobe Creative Cloud suite facilitates collaboration between different creative disciplines. Video editors using Adobe Premiere Pro can work seamlessly with other Adobe applications to create a cohesive final product.
Dynamic Link with After Effects
The Dynamic Link feature allows Premiere Pro users to work directly with After Effects compositions. This integration eliminates the need for rendering, speeding up the editing process, and enabling real-time previews of After Effects elements within the Premiere Pro program.
Adobe Prelude and Adobe Premiere Pro Workflow
Adobe Prelude is a video ingest and logging tool that simplifies the process of importing and organizing media for use in Adobe Premiere Pro. By using Prelude to prepare video files, editors can streamline their workflows and spend more time focusing on the creative aspects of video editing.
Syncing Projects with Adobe Creative Cloud
Adobe Creative Cloud syncs projects and files across devices, enabling users to access and work on their projects from any location with an internet connection. This feature enhances collaboration by allowing team members to share projects and provide feedback remotely.
Tips for Learning Adobe Premiere Pro
Take Advantage of Online Tutorials and Resources
Adobe offers official documentation, video tutorials, and online resources to help users learn and master Adobe Premiere Pro. In addition, there are many third-party websites, YouTube channels, and blogs dedicated to teaching the software.
Join Adobe User Groups and Online Communities
Adobe user groups and online communities provide an opportunity to connect with other video editors and Adobe Premiere Pro users. These groups often share tips, tricks, and techniques that can help improve your skills and knowledge of the software.
Practice with Real Video Projects
Hands-on experience is essential for mastering Adobe Premiere Pro. Work on real video projects, such as short films, documentaries, or promotional videos, to apply the skills and techniques learned from tutorials and resources.
Explore the Adobe Creative Cloud Suite
Familiarize yourself with other Adobe applications, such as After Effects, Audition, and Photoshop, to expand your skill set and enhance your video editing capabilities. Learning how to integrate these tools into your workflow will create a more efficient and cohesive editing process.
Adobe Premiere Pro Alternatives
While Premiere Pro is a popular choice for video editing professionals, there are alternative options for those who prefer different software or pricing models. Here are some other video editing programs worth considering:
Final Cut Pro X
Apple's Final Cut Pro X is a popular choice for Mac users. This editing software offers a range of tools and features similar to Adobe Premiere Pro and has a loyal following among professional video editors.
DaVinci Resolve
DaVinci Resolve is a powerful editing and color grading software developed by Blackmagic Design. This program has gained popularity due to its robust color correction capabilities and its free version with no watermarks, making it accessible to a wide range of users.
Avid Media Composer
Avid Media Composer is a long-standing industry-standard editing software used by many Hollywood filmmakers and TV editors. It is known for its professional editing tools and powerful media management capabilities.
Learning Resources and Online Tutorials
For those new to Premiere Pro, there are numerous video tutorials and online training resources available.
These resources can help users learn the basics of editing and familiarize themselves with the program's features, making it easier to create polished videos.
Premiere Rush and Adobe Prelude
Adobe offers two additional editing programs that can be used in conjunction with Premiere Pro: Premiere Rush and Adobe Prelude.
Premiere Rush is a simplified editing app designed for quick edits creating videos and social media content, while Adobe Prelude is a tool for importing and organizing footage before editing in Premiere Pro.
The Benefits of Using Adobe Creative Cloud
Premiere Pro is part of the Creative Cloud suite, giving users access to a range of powerful tools and applications for editing, graphic design, and more.
This integration makes it easy for video editors and multimedia designers to collaborate on projects and streamline their workflow.
Adobe Premiere Pro: A Powerful Tool for Video Editors
In conclusion, Premiere Pro is a powerful, industry-standard editing software that offers a range of tools and features to help video editors create professional-quality content.
By integrating with the Creative Cloud suite and offering compatibility with various media formats and resolutions, Premiere Pro provides a versatile and flexible solution for all editing needs. As you learn and master the software, you will unlock its full potential and enhance your editing skills.
Frequently Asked Questions
What is Adobe Premiere Pro used for?
Premiere Pro is a professional editing software used for creating, editing, and producing high-quality videos. It is suitable for a wide range of applications, from short films and commercials to documentaries and feature films.
Is Adobe Premiere Pro good for beginners?
Yes, Premiere Pro is suitable for beginners, thanks to its intuitive interface and a wealth of online tutorials and resources. However, it may take some time for beginners to master the more advanced features and tools.
What does Adobe Premiere Pro cost?
Premiere Pro is available through a subscription-based model as part of the Creative Cloud suite. Pricing varies depending on the chosen plan, which may include other Adobe applications as well.
Is Premiere or Photoshop better?
Premiere and Photoshop serve different purposes. Premiere Pro is a editing software, while Photoshop is primarily an image editing and graphic design software. Depending on your project and goals, one may be more suitable than the other.
Did Adobe Premiere Pro is free?
Premiere Pro is not free. It is available through a subscription-based model as part of the Creative Cloud suite. However, Adobe offers a free trial period for new users to explore the new features and capabilities of the software.
How can I learn Adobe Premiere Pro?
There are numerous online tutorials, video courses, and training resources available for learning Premiere Pro. Additionally, Adobe offers official documentation and support to help users master the software.
What is the difference between Adobe Premiere Pro and Premiere Rush?
Premiere Pro is a professional editing software with advanced features, while Premiere Rush is a simplified editing app designed for quick edits and social media content. Premiere Rush offers fewer tools and is more beginner-friendly, whereas Premiere Pro provides more control and precision for complex projects.
Can I use Adobe Premiere Pro on both Mac and Windows systems?
Yes, Premiere Pro is compatible with both the Mac systems and Windows systems. However, it's essential to check the system requirements for your specific operating system to ensure your computer can run the software effectively.
How does Adobe Premiere Pro integrate with other Adobe applications?
Premiere Pro is designed to work seamlessly with other Adobe programs, such as Adobe Audition for audio editing, Adobe After Effects for motion graphics, and Adobe Photoshop for importing images. This integration allows for streamlined workflows and enhanced collaboration between different creative disciplines.
What types of video formats can Adobe Premiere Pro work with?
Premiere Pro supports a wide range of video formats, including but not limited to MP4, MOV, AVI, and MXF. The software can handle various codecs, allowing users to import and edit footage from a variety of sources.
Are Premiere Pro Projects Compatible with Both Mac and Windows?
Yes, you can use a PP project file on both Macs and Windows.